2003-09-14
Okay so I flew over to the US once again, now with one experience more. I have been in Florida two months earlier to inspect another Scamar 35 the "Foxy Lady". Though it once was a beautiful boat, she would now need more maintenance than I had the time for.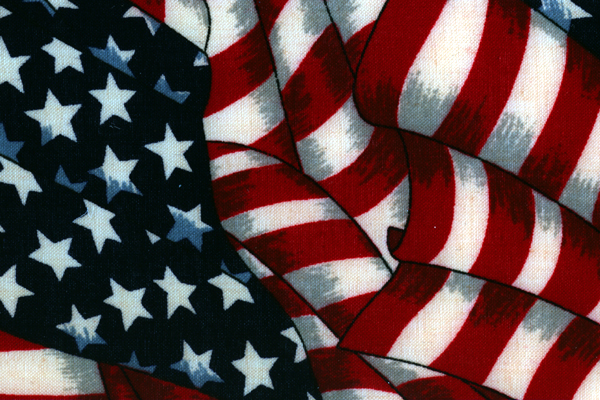 Anyhow, once out on the freeway with my rental car I had thousands of other things on my mind. Is it safe to do business as a private person over such a distances? Do I need a layer to do this affair? Where am I going to stay tonight? Will I find my way to the boat today or should I stay at a motel now? Will I make it back to Toulouse to my work in time? But maybe most important AM I REALLY SANE? Do I really understand what I am about to do?
Since I had a feeling that the answer to most of the worries was a shouting out loud No, I know started to need a toilet. But as I drove and seemed to find my way out of Washington towards Maryland my project seemed more and more like the right thing to do.
I arrived at Rock Hall at around 6 pm. Since I have had the a/c on in the car I was a little bit surprised over the high humidity when I got out of the car. And what a noise, frogs and sicades (making the same sound as grasshoppers) where all doing their best to sound more than each other. It was like stepping right out into a jungle. It was only the elephants and screaming baboos that was missing.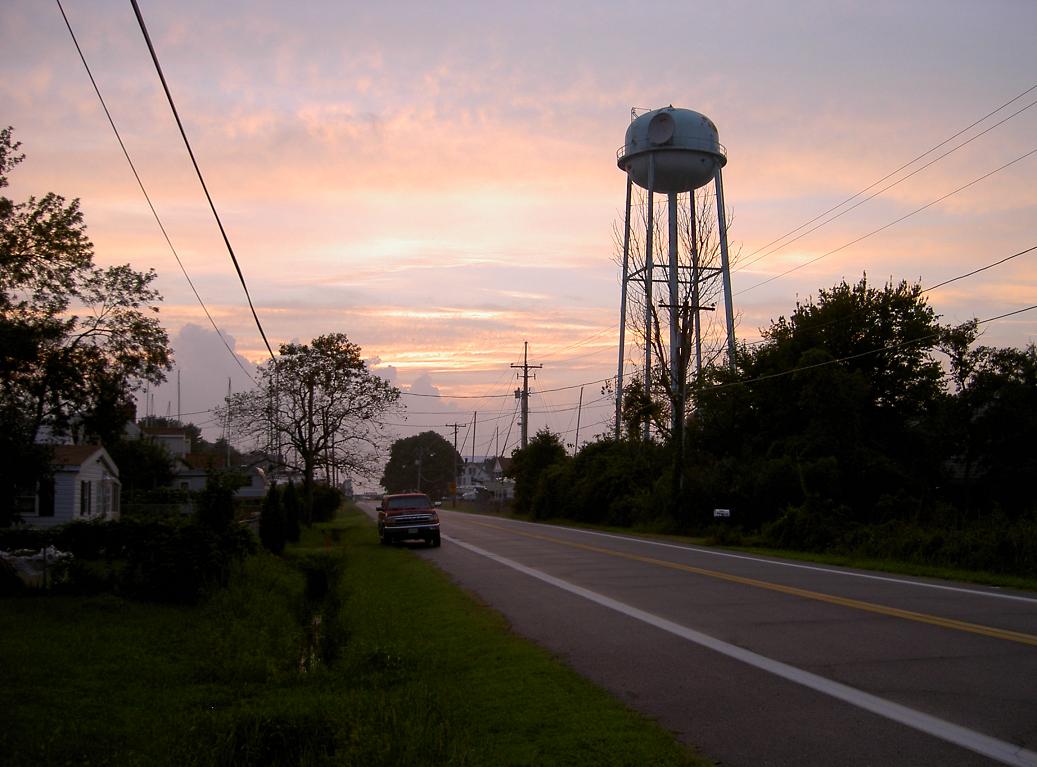 But boy there she was. And since she was on land I could make a good inspection of her keel and hull. Somebody has been kindly enough to leave a ladder at her stern so I could get up onto the deck. And this was turning out nice. The Slacker seems to have been taken good care of and she has had some upgrades as well. After inspecting her I could only notice a couple of fixable findings. The batteries needed to be secured, three stanchions with their respective mounts needed to be repaired, some electrical wirings needed to be rerouted and one of the mounts to dodger needed to have be fitted. But over all she was a beauty.
No matter which boat I decides to buy I still have a lot of work to do to get ready for the Atlantic Ocean. Amongst other I would replace all halyards and ropes, replace all hoses and valves underneath the sealevel. Install radar, SSB radio, Solarcell, Autopilot, VHF, Liferaft, EPIRB and buy two new sails.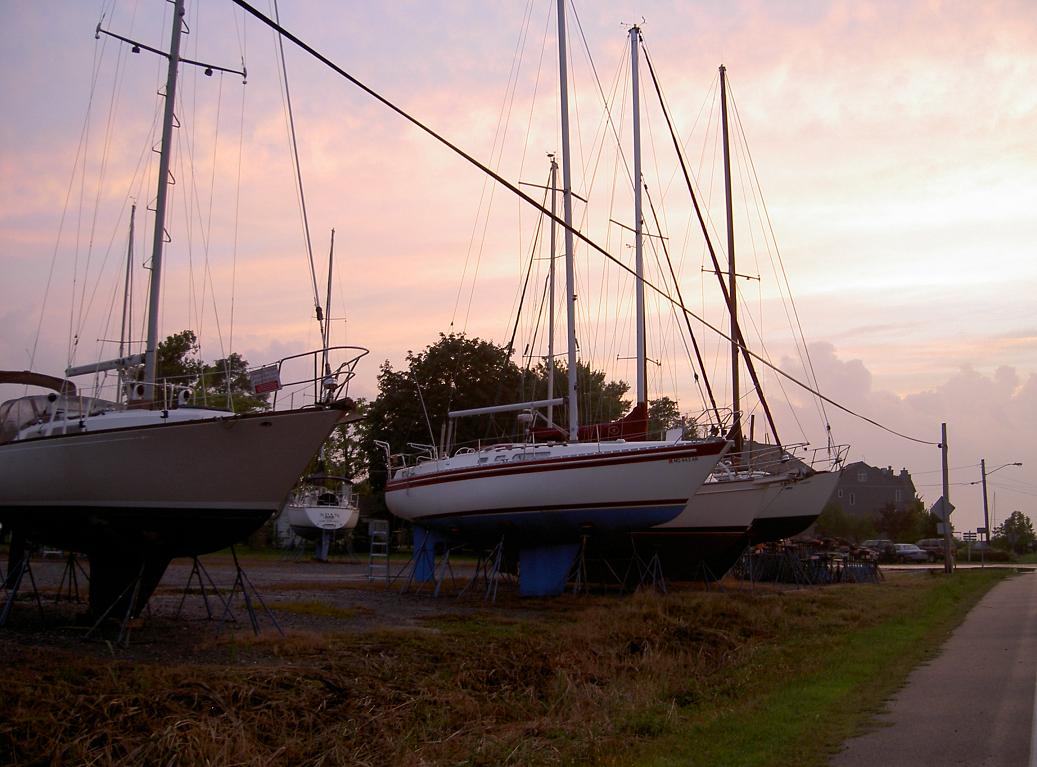 I booked in at a motel just 100 meters away from the boat. After a good night sleep I waked up at 3 am. Good, nice I am 100 meters away from the boat , its totally dark outside and I am awake as ever could be. So there was nothing else to do than make a coup of tee and head of to the boat. So this was my first contact with The Slacker, soon to be renamed to Isabelle.
Now my little family needs my attention so I will see you all later.
And remember, it is now only 226 days left until we are heading towards the Bermudas.
2003-09-15
I meet Bill from Adventure Yachts 9:30 as agreed and he was a realy down to earth person whom I found a good dialog with from the very beginning. He impressed me very much just to get up on the boat since he was suffering from the aftermaths of a stroke. His right leg was numbed. But there was absolutely nothing that affected his spirit. Go Bill, Go...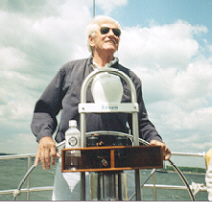 When also discovered that the Slacker was hard, not to say impossible to start up. After all different starting techniques (it is after all a Volvo) that we could come up with we finally borrowed a Jumpstarter unit from the Marina and this made a different. But only one time. So we descided she needed a new battery. Although I agreed with Bill that the reason was probably that she was a bit sour with the name Slacker.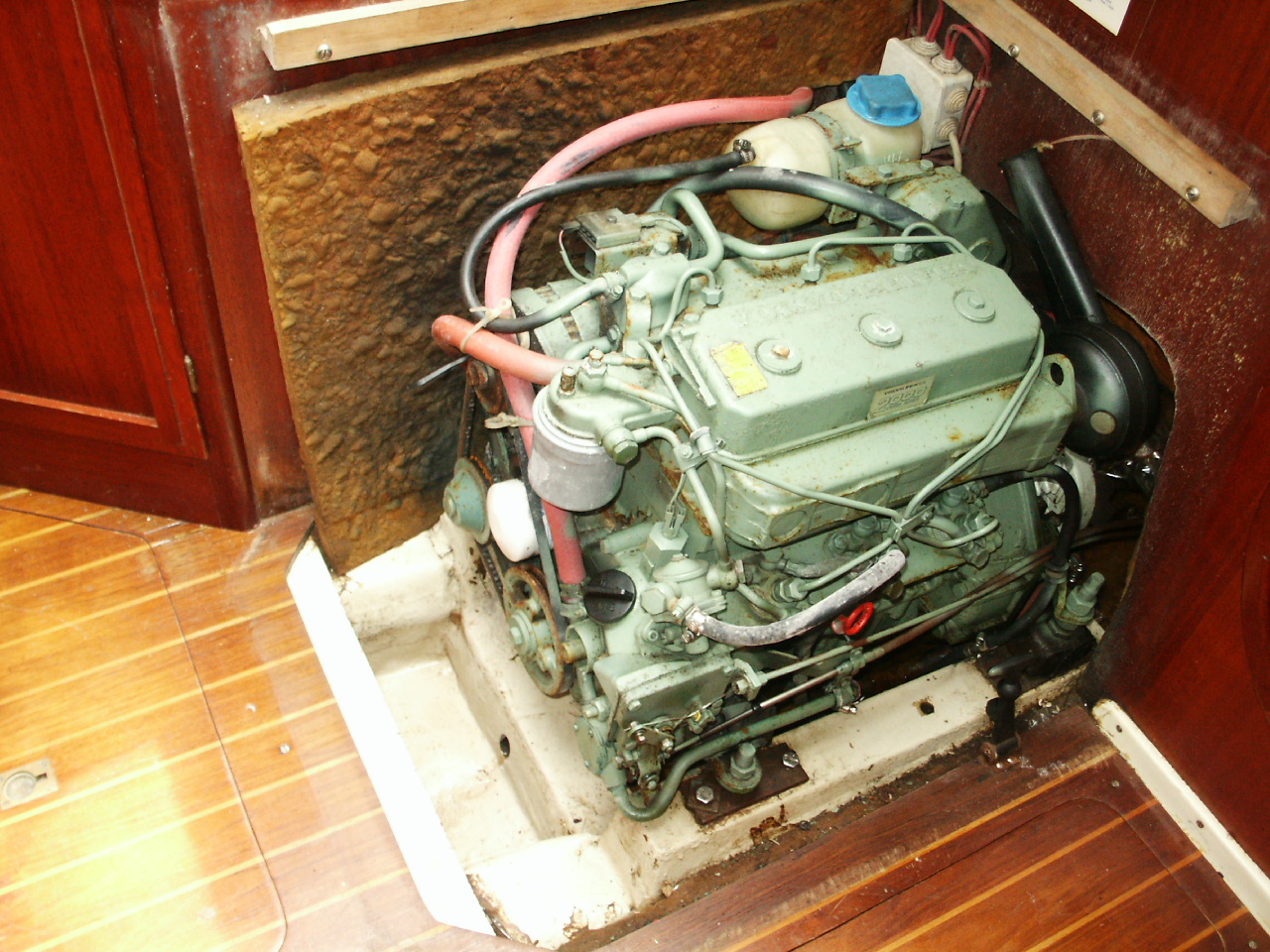 So at 11 am the guys from the Marina, JJ and his friend, sorry dont remember his name, came with the big 4 wheeled hauling monster to put her in water. Boy this was fun. Chesapekebay was experiencing a low tide so we would probably need to give some extra power to get out of the harbour. Well in the water she floated like a cork and as I have read from other owners and their boats she was also leening a bit to starport side.But boy wasnt she a beauty.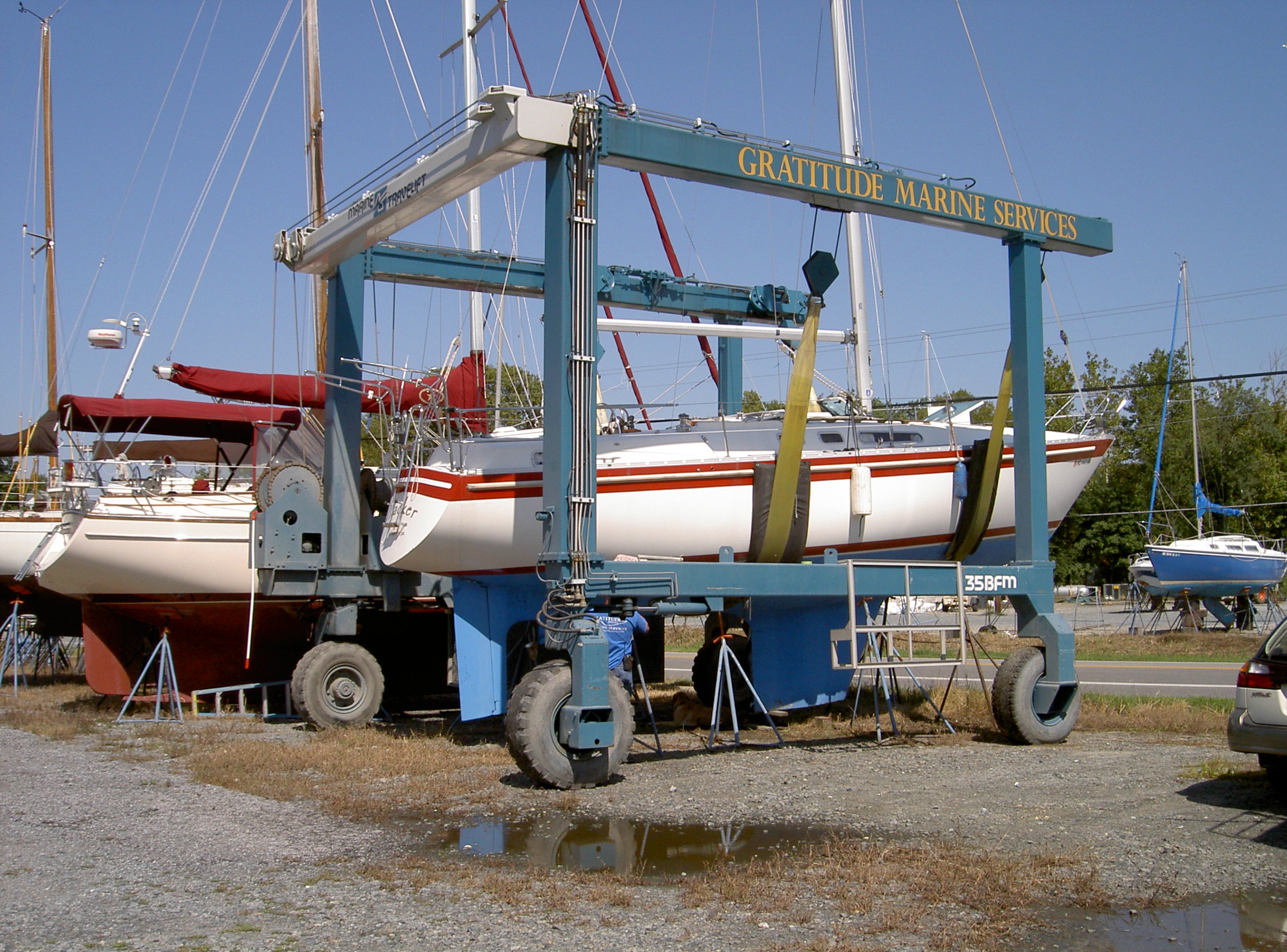 We took her out on the bay and Bill was steering her safely thru and over all crab fishing equipment. She had a play in the rudder lower support and we could feel/hear the vibrations at a certain speed. This will be dealt with during the spring.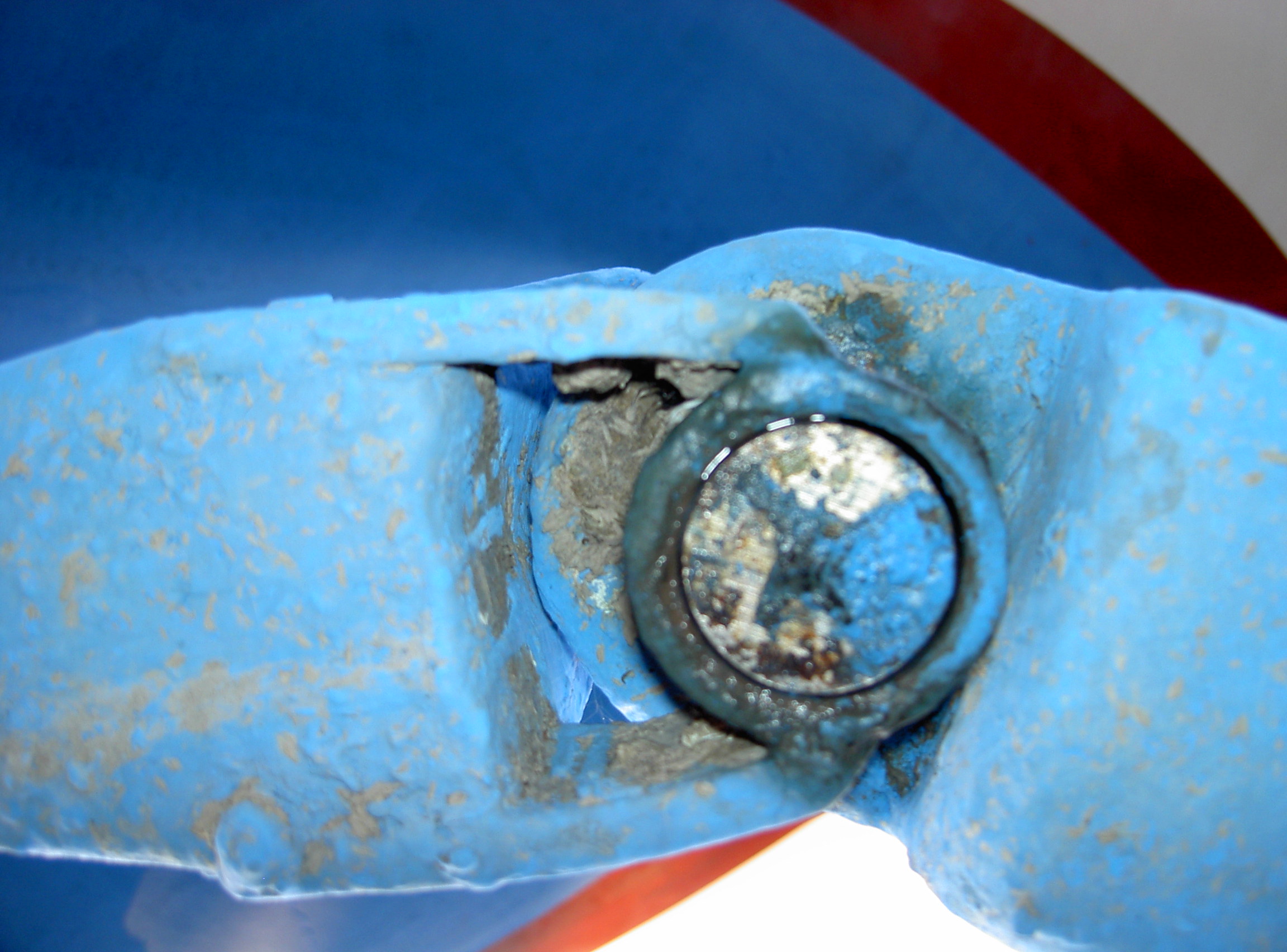 So after a short trip, around 30 minutes, I could see that the engine worked okay and the temperature had stabilized at the normal working range, we headed back to the marina. With the new starting battery she fired up within 2 secs. the good thing was that I discovered a new technique on how to start this baby. First pull the fuel shut off handle all the way to the shut position. Place the throttle in half speed position. Then crank the engine and after about 10 - 12 seconds push the fuel shut of handle all the way to the fuel on position. And then voilà, hopefully.
I will be back.

2003-09-16
So for some weard reason a hurricane named as my youngest daughter Isabelle has decided to pay the US west coast a visit. I am keeping my self on an hourly basis updated at National Hurricane Centercheck it out.
But I am actually not that worried of a direct hit of the hurricane. What concerns me more is all the debris flying around caused by the enormous wind speeds since this may cause damage to Isabelle. Together with this hurricane there will be large amounts of water coming down this may in turn undermine the area where she stands and also cause movement of the boat. Naa lets not be too negative here please.
What I found out today is that it's very hard to get a transporter that can ship my life raft and other items into the US. After being turned down by at least 5 – 6 different logistic firms I found a small firm that could do it. But there is a bureau called Dangerous Gods Department that I need to contact to get a Dangerous Gods Certificate and the proper labels to but on the shipping box that I will manufacture my self. The transport will cost me about 450 US dollars exclusive the different costs within the US.

The actual deal as it is right now is that the papers are on its way to the seller with FedEx and as soon they returned them to the broker he will transfer the money.
The different papers involved are Bill of Sale showing the actual agreement and another document showing the Title. This document has on its backside information if there is any Loan on the boat. This document is stamped by the bank when everything is paid for, meaning the transfer of money will most likely go to that bank at first and the amount that is left over will then be paid to the seller.

To be continued bye for now……

2003-09-17
Because the liferaft contains pyrotechnical devices (handflares) I have had big problems to get a Dangerous Gods Declaration. The company that has them (Farligt Gods Center) will only sell them for 120 US. I was advised by the Custom to find a well sorted bookstore. But I know now how to get around it all. Next februari when I am having the liferaft serviced I will not reinstall any pyrotechnical devices inside the liferaft. I will instead buy them in the US. Since the liferaft itself is not classifyed as a dangerous gods.
About Isabel. It seems like Rock Hall will be hitted by her force. They dont believe that it will be a direct hit but the water surge will probably be not less than 7-8 feet. And that is much for this area that more reminds of Florida regarding the elevation.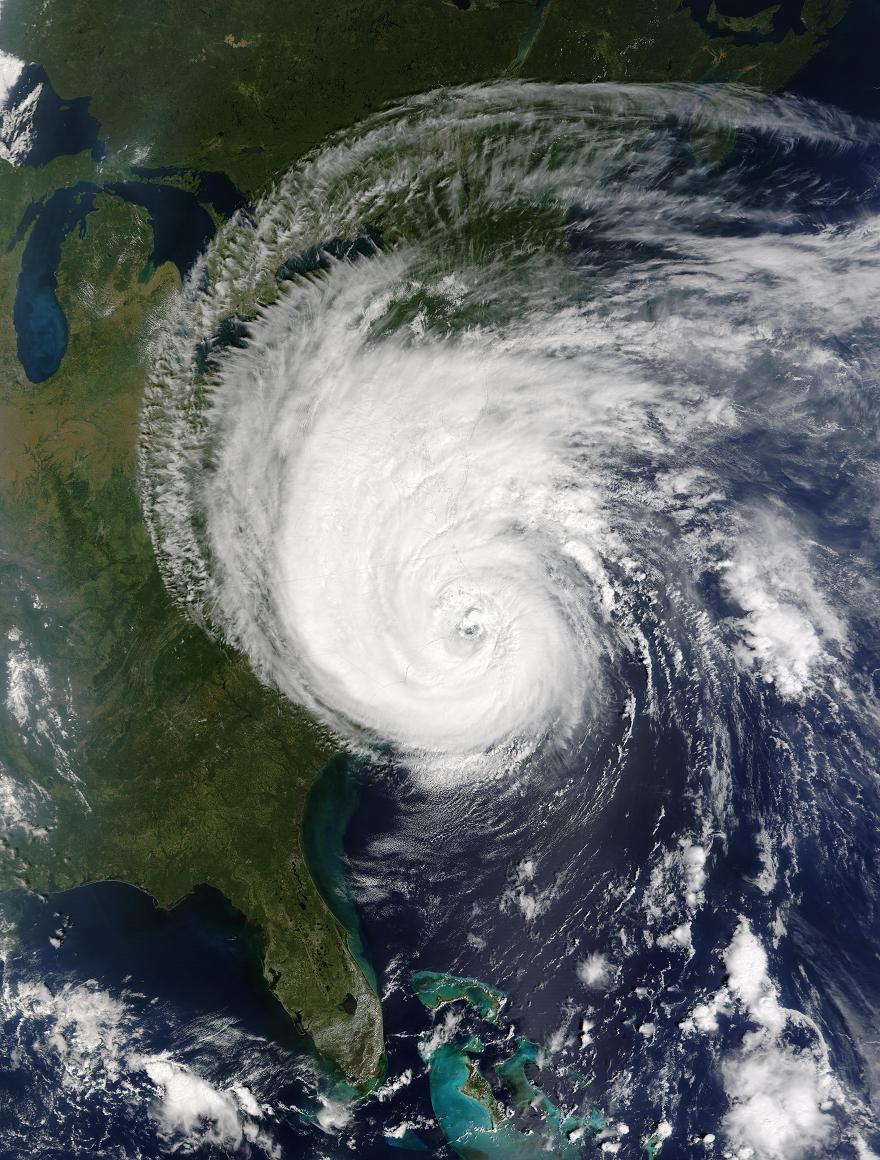 You can see a pic of her taken at my last day sitting inside the car just when I am about to leave Rock Hall.
I really hope I will find her in the same outfit.
Bye for now

2003-09-18
Just been spoken to my friend Tony "the capten" Nastasee. And it is at the moment 20 mph, increasing,of wind and he was just about to haul the spinnacker. No just kidding he is on land just as me. He said he had beer, ice and blues on the stereo what else can a sailor ask for he he. More wind, naaaa.
But another think just stroke me, I have had a little problem of giving my baby a new name, since I dont realy feel comfortable with Slacker. And Desperado hasent realy grown sort of.. But now I am sure, Isabelle will be her new name and it will be with the same spelling as my youngest daughter. Not to remind too much about the hurricane Isabel.
Tace care Tony and look after Ed and my boat will ya.

2003-09-20 18:45
Yuippee I have just spoken to Tony again and he told me that Isabelle is all safe and no damage done to her.
But there has been a surge at about 4-5 above the normal tide level causing flooding in some of the houses closest to the waterfront. But the pir protecting the Marina is all gone though.
Just wanna let you know.
Time for a bottle of French red wine.
Take care

2003-09-22
Today will the money be wired to the sellers.So now you may call me a boat owner or Captain Johansson as you like ;-)>. And a boat surveyer is doing the inspection of the boat as soon as possible. This survey has to be done in order to get an insurance. Isabelle will be insured in two different companys. Lloyds of London will insure the liability and ING Groep NV will insure the Vessel in case of damage. Not covered by neither insurance is the personal injury, that each individual have to clear on their own.
So now the really fun time begins. And thats to buy all the necessary gears you need to cross the atlantic ocean. I will place my orders at www.defender.com www.leesails.com and www.lentinicomm.com simple because they have the lowest prices. And I have compared all the same products. I will only buy gears manufactured by Raymarine, ICOM, Volvo Penta QL Bow Thruster, Bainbridge and Kyosera.
Amongst others will be a new main and strom jib, all new halyards, a pole monted radar, SSB Radio, 2 VHF station/handheld, solar panels, Bi-Data (Speed/Depth), MaxProp, PSS Stuffingbox, Bowthruster (will not be mounted until home in sweden), and an Autopilot.
I guess I will be pretty busy during the 8-10 days I have to prepare her, I will probably still be working on her when crusing down the Chesapeke Bay.
Take care all
//Bosse

2003-10-12 Stockholm
At the moment I am doing my best to fill my friend Johns house with boatgears from www.defender.com and www.lentinicom.com
Boy what is happening with the US dollar, its falling like a stone against the swedish krona. I guess the referendum against joining the Euro is making his effect but what the heck, looks santa claus deliver early this year


I guess I wont be updating this page until next year, now let us say january, because not much will happen now (except me wearing the daddy pants) shopping like a meniac.
Until then, take care.

2003-10-18 Toulouse
Hi again. I have come to the conclusion that its best to hire a local sailmaker since I have had problem understanding all the different english names for the different measurements. After all I cant afford to be standing at the shore next april with two sails that wont fit right and probably needs two month before returned. So now have placed an order at North Sails in New Jersey.
They will do two sails with the following specs:
- 1 Main Crosscut NorDac 330 292 sq.ft (27,12m²) 2 Full Length Battens at the top, 2 Reefs and a Cunningham.
- 1 Storm Jib Crosscut Dacron 77 sq.ft (7,15m²) with contrast color.
- 1 Mainsail Boom Protection
- 1 Furling Sock with zipper
It made a pretty deep hole in my budget though, but as we say over here in sweden. Nobody remembers a coward ;-) and this will put me in a very good spott in the ongoing race. The person with most stuff and gadgets when dying, is the winner.
Take care all
And remember, today its only approx 180 days until we set sail for sweden.
//Bosse

2003-12-25 Stockholm
Hi to you all and merry christmas.
So it seems like Mikael is going to have problems getting 2 months leave from his work at the Air Traffic Control Center at Arlanda Airport. They have to implement a new Traffic System.

I MEAN DONT THEY KNOW ANYTHING ABOUT MAIKING PRIORITYS.......
Where is this world heading!!
So we most probably have a new crew member joining in.
Tony "The Cap´n" Nastasee
You are most welcome Tony. And no problem Tony, we all speak english fluently and since we Swedes do everything to avoid our own language, english will be the official language on Isabelle. I hope you will learn us some new tasty and colourfull vervs and nouns under influence of some bruskies. He he.I am already looking forward to it.
Happy New Year to you all.
Toulouse 2004-01-17
Hi.
Its now only three months until we head for Rock Hall MD.
I just cant describe the feeling I experience at the moment. I am really looking forward to this little adventure.
Just the fact that I am leaving work for almost 3 1/2 month. Crazzyyy ;-) to do just what I want to do. Cross the Atlantic Ocean Woooow.
At the moment me, John and Magnus is fit for fight. Magnus will particiapate in two seperate Nautical Courses in feb and march.
Not only for his own sake, I will not get the Isabelle insured if we are less than three aboard without this competence.
I have also stepped down on buying gears, Johns apartement is getting overloaded.
No its just the fact that my shopping list is getting completed. Only thing missing now are the Cutlass,Stuffingbox, Interphase Forward Scanning Sounder, a new prop and charts, distress flares.
When getting home in feb I will start making the Shipping Box. The liferaft will be serviced at end of feb. I guess I will have to send the Box in due time concidering the Safety Alert right now in the States. Dont wanna be delayed because of the Custom Clearance.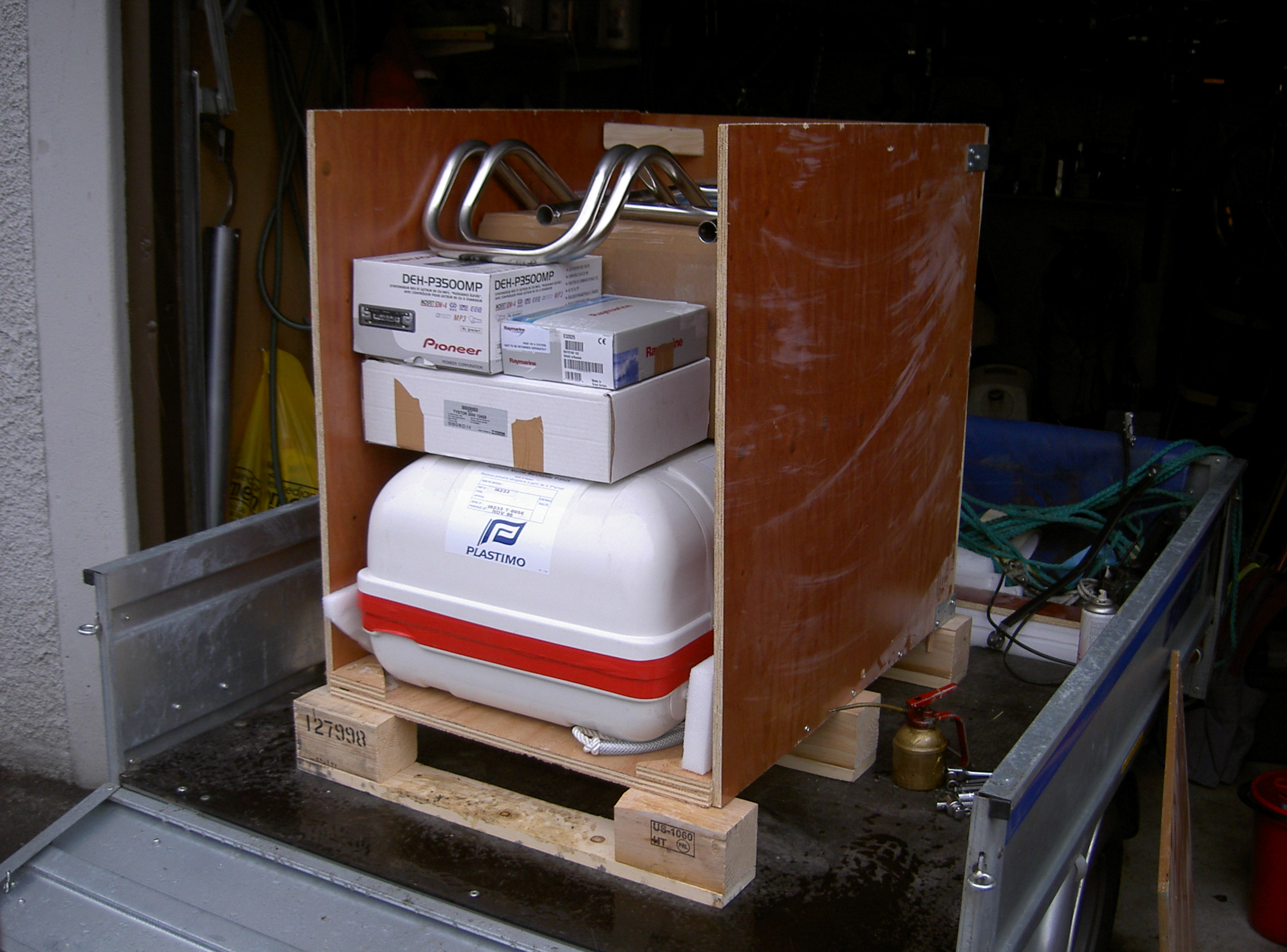 I will also be busy in feb,mar to scan charts to be used with the Fugawi Charting Program.
Nice to know, I have five (5) GPS:s aboard. I must be nuts ;-) Two (WAAS and a DGPS) hooked to the Seatalk Bus (selected with a single switch) , two identical handhold (Garmin 12) that can be attached with a cable to the laptop and of course as standalone units both programmed with all Waypoints and in addition a USB GPS that will connect directly to the laptop.
Dont tell me now that the GPS System is closed for service in may,june. ;-)
Until later, take care.

2004-02-26 Stockholm
Hi all.
All bits and pieces are starting to fall together.
Today me, Mike and Magnus (assisted by my two daughters) are going to Båtaccenten in south stockholm to inspect the liferaft after it have been inflated. I will insert pictures on the occasion later. This will hopefully be the only time when we will see it. Anyhow we should not be afraid to make use of it. And if so I think we are well prepared on what to expect once inflated. I bet that if we inflate it it will not be blue sky, 25 C (77 F) degres and calm steady southerly winds. No its more likely to be dark, windy and a lot of adrenalin pumping around in our poor vaines :)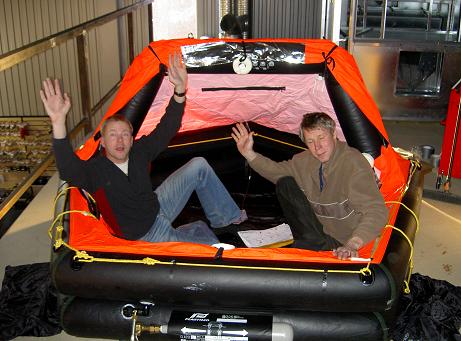 I am also in the time of making a box large enough to contain the liferaft, toolbox and other items needed to be shipped.
I have just purchased a complete kit for the engine with all the seals and gaskets needed for a overhaul. With a manual and Illustrade Parts Catalog they cost 450 US. Anyone needing one should contact me and I will bring it to NJ-MD. Also if you should need the new chain plates.
Sadly my department withdraw my 2 months leave, so now I will probably have to travel to US in beginning of April for two weeks doing maintenace on Isabelle. Then going back to Sweden for two weeks to work. Then back in last of April to set sail the 1 of May. After 3 weeks, hopefully, we arrive to the Acorez, Portugal. Here I will fly back to Sweden for some work. The back ASAP to Acorz for the rest of the trip. Doesnt really comply with my ulser :( We will see what happens. As a last scenario I'll probably just quit my work. I have only one train to catch and it will leave without me. A man gotta do what a man gotta do :)
21th of March I will try for a Radio Amateur License making me an applicant for a callsign on the MediumFreq/HighFreq spectra with my SSB radio.
At the moment Swedens largest boat show is Allt för sjön coming up. At moment the perfect place for doing some daydreaming :)
I will keep you updated.
Take care
Bo
2004-03-07 Stockholm
Hi
Now I have started my 4 month un-paid leave from my work at Scandinavian Airlines.
I guess it will take me a while before I will realize it.
At the moment I am building the small wooden box where I will pile all the gears that I will bring with me from Sweden.
These are amongst: Liferaft, EPIRB, Clothing and cushions, Mp3 Player, inflatable life jackets with harness.
It seems like we are leaving MD a qouple of weeks before schedule. Probably around the 19th of April.
I will probably come to her around the end of Marsh.
Bo

2004-03-25 Stockholm
I did also pack a heavy rubber tarp with the dimensions 4 x 4 meters. This tarp will be used if we for some reason will get a large or very un-circular hole in the hull. We will the wrap the tarp around the boat as a big braw ;-)
Last friday I shipped 180 kgs (approx 400 lbs) to New Jersey on Airfreight. If Johns appartment wasnt like a warzone before, it will be now he he.
I was hoping to rack the mast at the marina before leaving, but they would charge me 400-600 US....off and then the same price for lifting it back up again (a total of maybe 1000US, thats crazy). I now realize why you guys let the mast be mounted during off season. Here in Sweden I would say that 95% of all sailboats dismount the mast every year. And we do it ourselves in the boat club. Then when the time comes to bring up the boat we all helps eachother. I will film this event later this year and put it on the site.
Anyhow, on Sunday I will leave for New Jersey and asap I will rent a van to pile all my stuff and point my nose towards Rock Hall. Life is really good to me. I cant explain how it feels, I dont think I have felt this feeling since I was a small kid and dared to take my small sailboat outside of the bay and where the BIG boats where, probably not more than a couple of hundred metres off shore :-)
I will update the website three times during the journey.
Around the 18th of April before leaving Rock Hall
Around th 25 of April before leaving Bermuda
and around 15th of May before leaving the Azores
Talk to you soon
/Bo

2004-03-28 New Jersey
Hi all. So I made it back to the States, the cabincrew on SK903 was very nice to me when they let me use the crewrest in order to get along to US if not I dont know where I should be today.
I am at the moment in Johns apartment and unpacking all the boatgears bought last 6 month. Christmas is all here again hey ;-)
Feels strange me owing all these items, cant remember bying them :-)
Now I need to get rid of the jetlag.
Godnight ZZzzzZZz

2004-03-29 New Jersey
Went to Budget to rent a minivan. I was thinking of renting a stationwagon he he would that had been a mistake.
Loaded all gears from Johns apartment then straight of to SAS Cargo at the Newark North Area to pick up another 180 kgs (400lbs) of gear.
He he I will tel yaa, the car was loaded to the limit. Couldnt see sh.t in the right mirror.
Drove to Rock Hall and arrived at 7 PM (afternoon).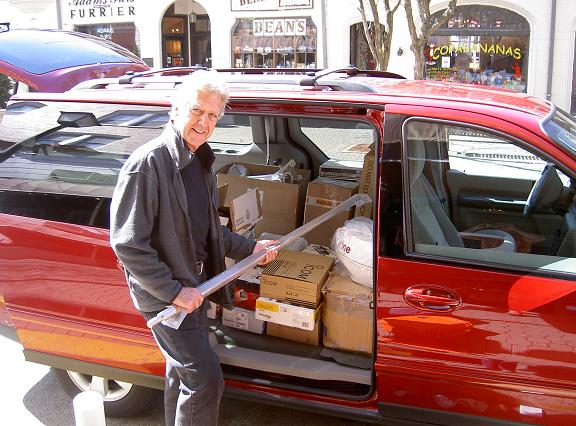 2004-03-30 Rock Hall
Godmorning. Woke just up in a freezing cold boat and had a simple breakfast in the cockpit. But what the heck, as my frind Mr Nasty, alias Tony Nastasee, says "Happiness is owning a Yacht". I can only agree ;-)

The light you see comes from my headlamp, what a beatyful thing :-) I can tell ya that is 2 deg C (36 deg F) and its two more hours until the sun breakes the horizon.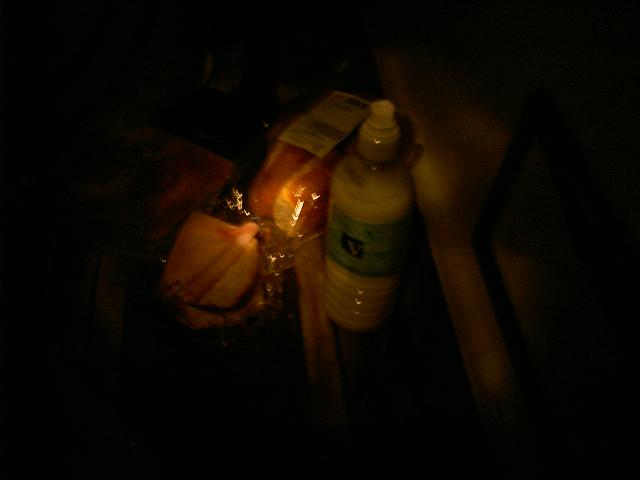 I guess there is not many places that is alike a ghost town than a boatyard in wintersuit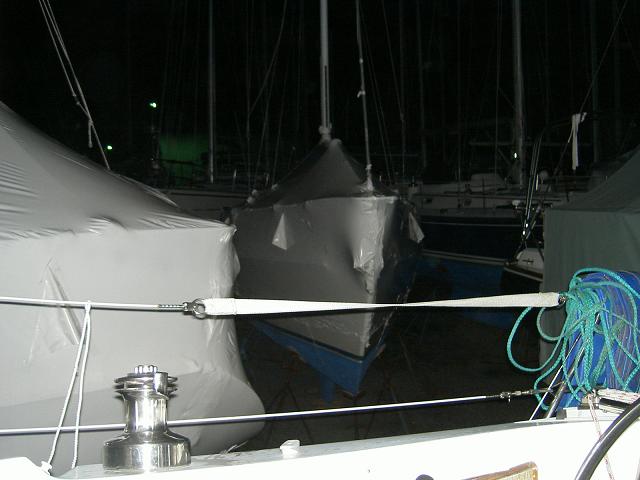 But shame on the one giving up, look at the picture lowest and just enjoy.
As one of my customers way back, when driving taxi in Stockholm, told me "you often regret a late night, but NEVER an early morning". A lot of wise words around here ;-)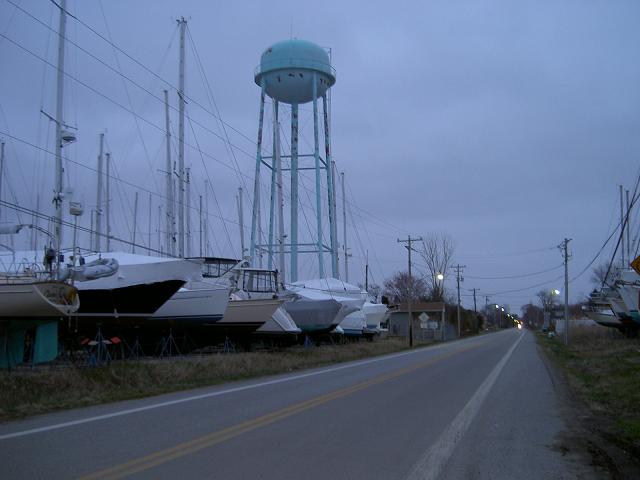 2004-03-32 New Jersey
Drove up to John again to return the rental. Was suppose to drive back same day but I was a "little" too tired for that.
Sleept like a dog on Johns coach and then woke up just for the planned dinner with Bob Padlowski.
We, John, me and Bob went to an Chinese restaurang. Had a soup since I was still asleep but woke up as soon as my eyeballs fell in the soap ohh no I mean we started to discuss our precious boats ;-) and the planned trip.
Oboy it fells like I am a couple of thousands years old.

Unloaded the minivan before I left for New Jersey.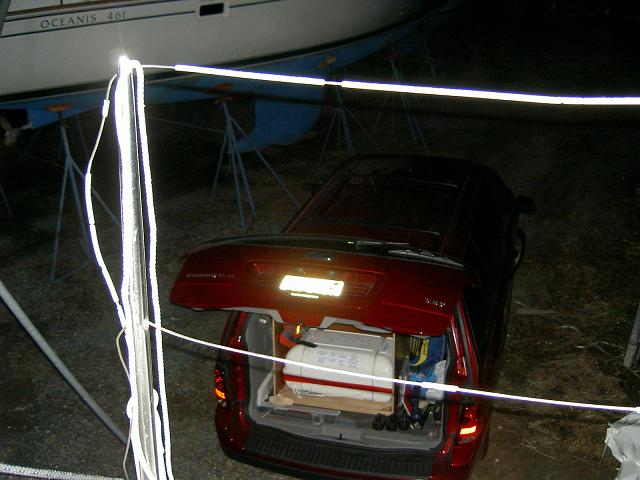 Rock Hall 2004-04-01
Me and John drove back to Isabelle (her new name) and as sonn we arrived we digged in in all the work that has to be done before we leave.
Here is John working on the new chainplates. Gott it ;-)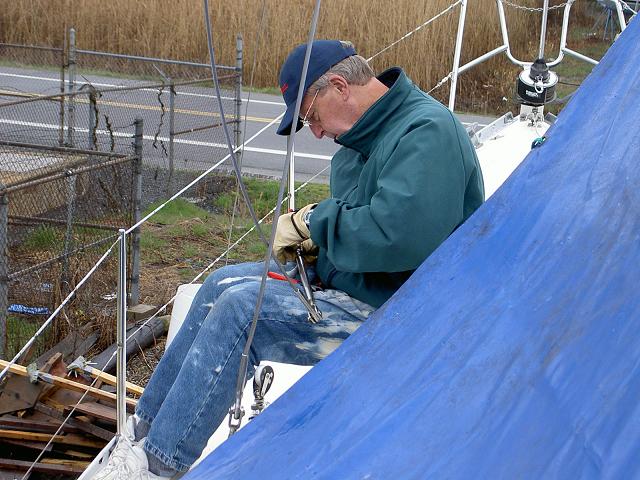 Rock Hall 2004-04-03
Wow have we been efficient. Here is alist of job performed.
1 Cutlass bearing is removed (dimensions 4" long, 1.25" OD, 25mm ID)
2 Stuffing box is removed
3 Chain plates is removed
4 Liferaft is installed
5 Diesel tank is inspected and has been filled top up during last 2 years (thx Scott). This is very good in order to not get any water in the bottom of the tank because its in the water that fungus is growing. Will arrange so that the diesel is recirculated via large filters with the help of contractors.
6 Davits reinstalled
7 EPIRB installed
8 VHF installed
9 All thru hulls with valves disassembled and lubricated
10 Johns laptop has been reformated ;-)
Pics 1, 2 and 3.
Seeing any difference??!! ;-)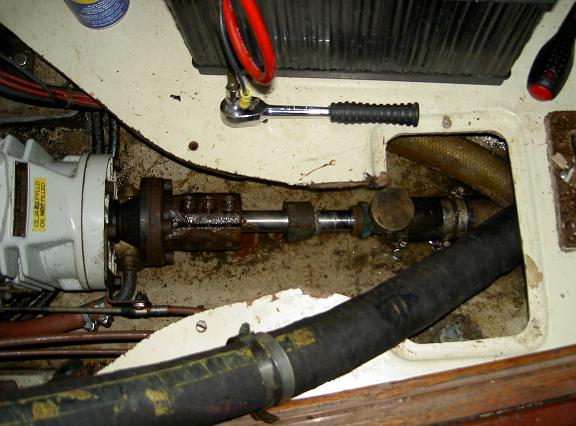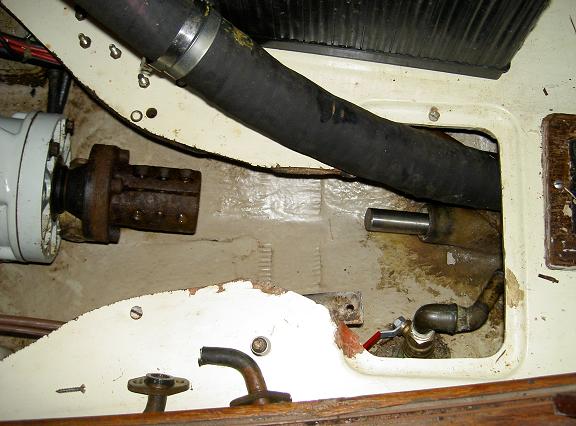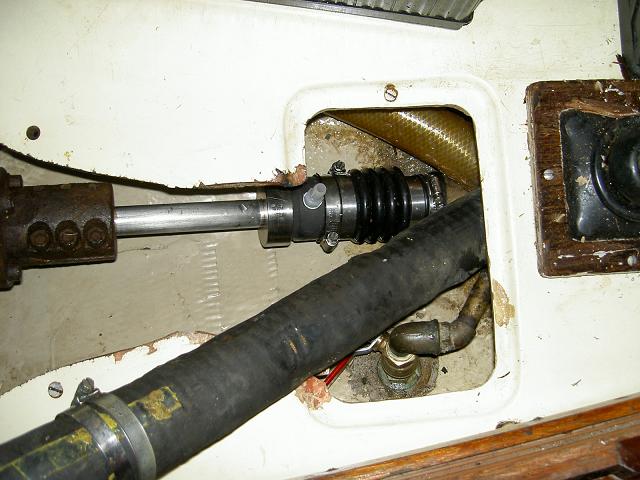 Rock Hall 2004-04-05
Hi all. I have now decided to route all the cables from the instruments inside the pedestal, previously I didnt think I have the time for it. But we have ben working on so good so lets dig in deep in the workpack.
Pic 1
This is how it looks like from underneath, it was quit tricky to pull the cables thru and install the grommets. One must not be afraid of drilling in some items. You can not make an omelett without crushing some eggs. On this pic I have not yet installed the four bolts securing the lower plate.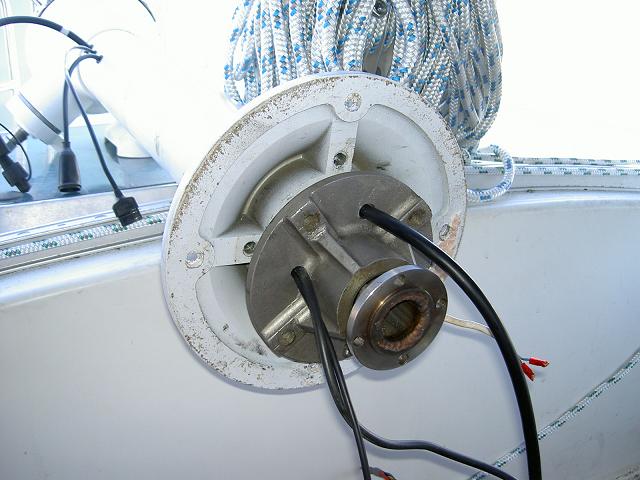 Pic 2
How about this? Lower 20 degres F and windy like hell but one may still perform som achivments :)
The new compass will be installed later and the nut holding the bracket is not available at the moment.
God I just hate varnish on teak :-/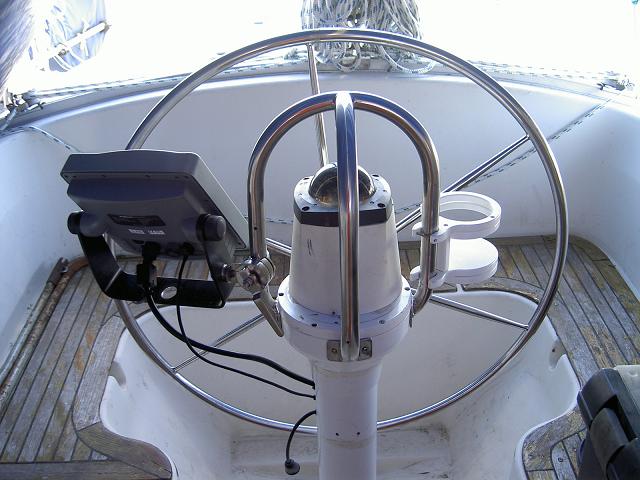 Rock Hall 2004-04-06

Today I was to West Marine and cutted the halyards so that no wire would protrude out of the mast when the sail is fully set. I then replaced one main and one genoa halyard. A problem occured (see pic 2) when I tryed to replace the smaller topping lift (dirk) with the 12 mm second main halyard. I was unable to pull the rope-to-wire splice throu the top sheeve. I will go up in the mast tomorrow in other matters (radar reflector, windex, anchor light bulb, second genoa halyard and applying large contrast color tape) to see if I can fix this problem. Today I also mounted the autopilot drive unit, it was very straight forward. See pic 1 (You can also see the SDGPS and DGPS antenna in the background, maybe I need to separate them more from eachother) Did also try to rig the radar tower but run in to problem, the two supports I bought with it doesnt work so Doug, the harbour master, has contacted a guy that works with bimini tops stainless steel tubing and fittings. So I feel pretty asure that this will be solved next coming days.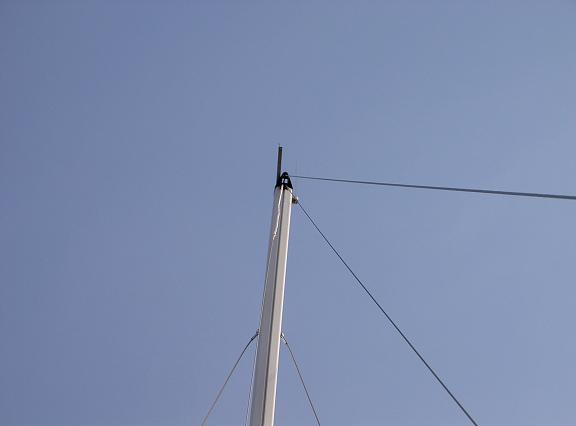 Rock Hall 2004-04-09
Yesturday Ron from NorthSails in NJ was here and delivered the new sails. One main and one 80 sqft (7 kvm) stormjib. To onour the day the weathergods made it calm, first day this period. A good sign I guess, hope. It all came out nice but we had a little problem with the Furlex tracks that jammed, saw on the G1 that came with Isabelle that it has been a known problem since before.

Pic 1: Ron and John is inspecting the all new main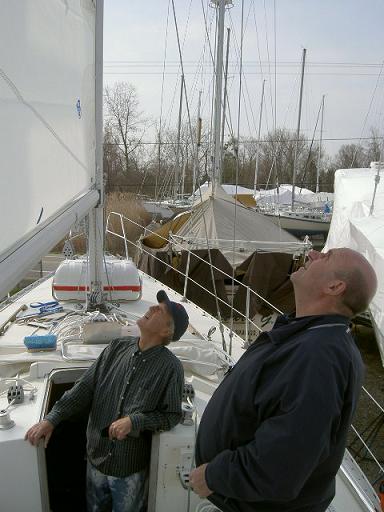 Isabelle is starting to look like a OceanCruiser ;-)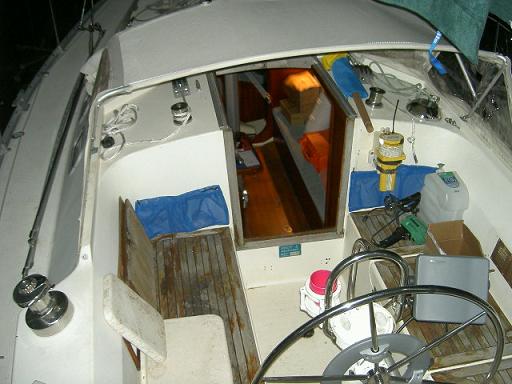 Today I concentrated on electrical systems. Moved the compressor for the icebox to a not so optical but convenient position. John came up with the brilliant ide to put the compressor on hoses to insulate the vibrations.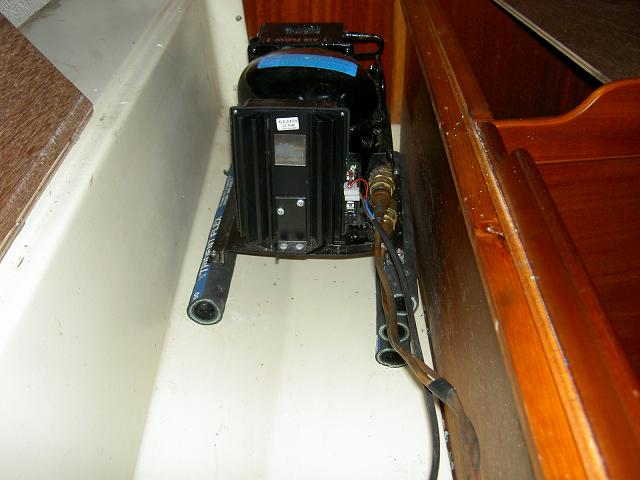 Installed two new deepcycle batteries below the seat in the salon, almost amidship.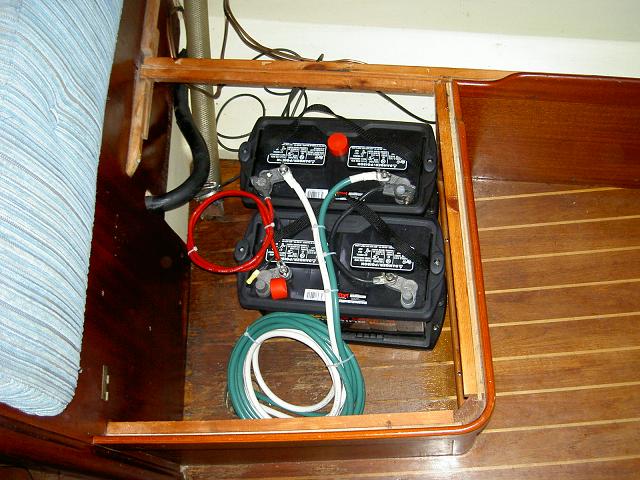 Rock Hall 2004-04-14
For the past few days I have done a lot of shitty job, the fact that its been raining every day doesnt make it less shitty :-/. Replaced a lot of valves (all except the cockpit drain) and loosen and re-sealed almost all (4 of 6) thru hull fittings and replaced 90% of the potable water hosesl.
Have seen a lot of "tryings" to get the thruhulls watertight with sealant from the outside.
Have also routed the cables for the Speed/Depth ST40 and the Interphase Outlook Forward looking scanner. Plus flushmounted the 7" display at the nav table. Cable routing comes tomorrow.

Anyhow, here are some pics of todays result.

By the way, we are going to be 4 crew on the journey to England. Magnus is bringing a friend, Magnus Mossberg. He is most welcome.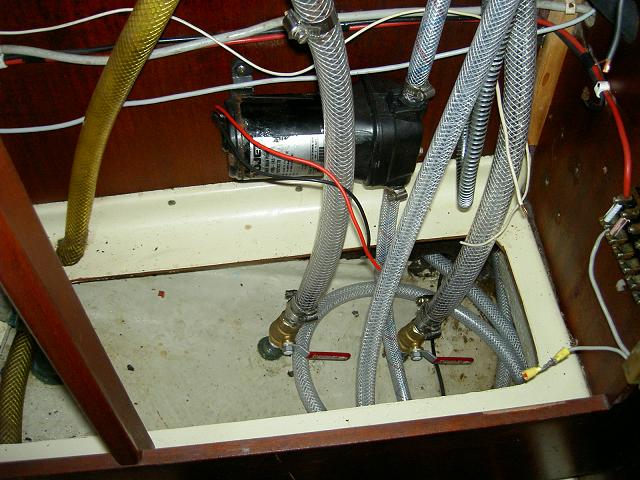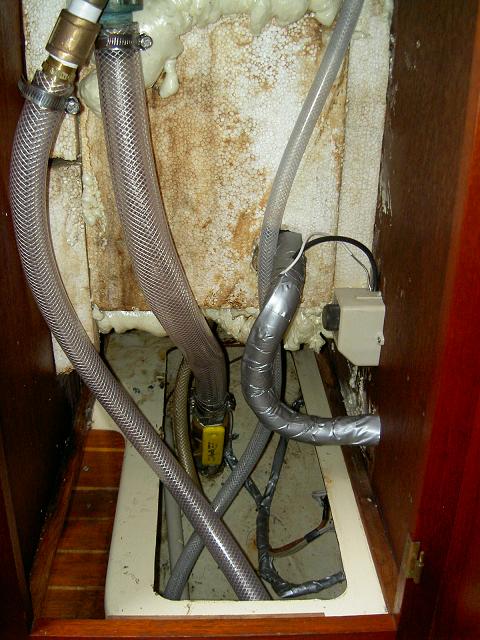 Rock Hall 2004-04-20
Frustration, pleasure and stress mixed with all wonderful people at the Gratitude Marina helping and taking care of me. I cant enough show my gratitude to ALL of them, its a boaters haven.
Today we got splashed, with just a couple of days after I asked just when the yard is full of other boaters, what can I say.
The mast is laying aside and all set up for be lifted on early tomorrow morning.
Pic 1. Me, Mac and Mr Nasty involved in serious brainstorming. Nice hats hey ;-) Isnt Nastys in gold? He he nice Nasty ;-)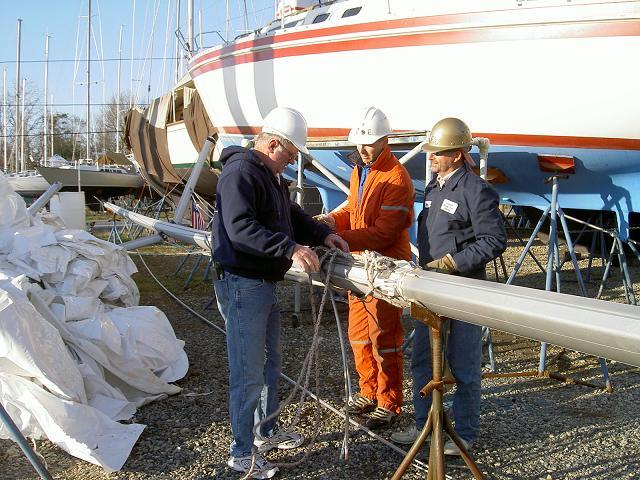 Pic 2. I just thought this was a nice picture, took it after I have installed the radar tower. Which is by the way a Garhauer product. Nice piece stainless steel. And the solar panel from Kyocera is in place. The tower is almost invisible on the pic. A nice boatyard picture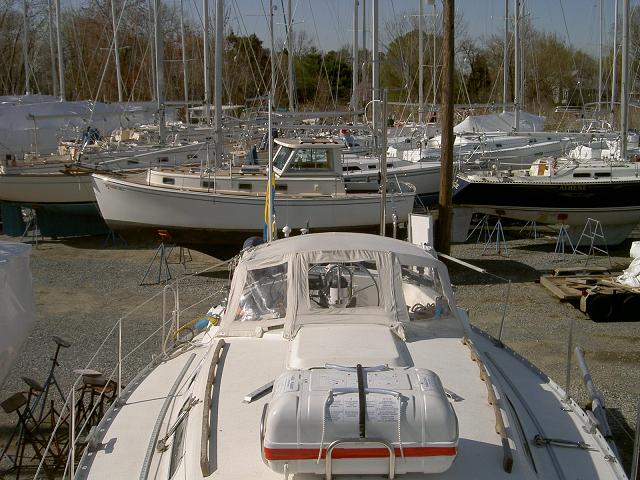 Pic 3. Taken just 15 minutes ago. Wow we are really getting excited to get on the big water.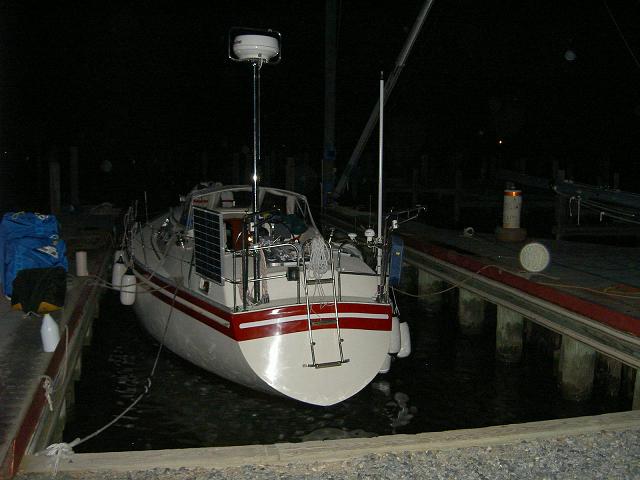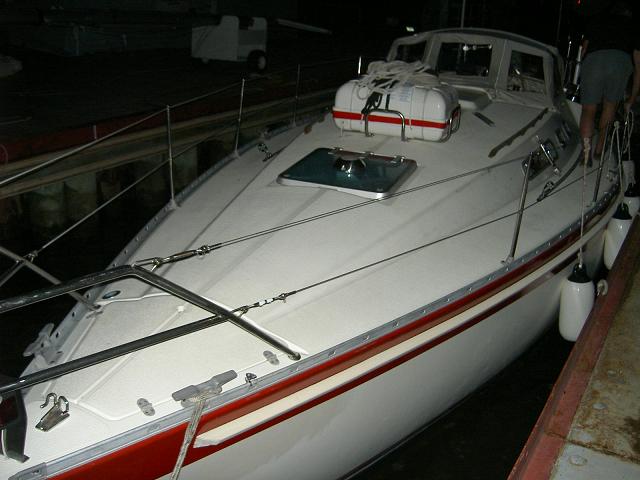 Rock Hall - The last night- 2004-04-21
So, finally we are all set (will we ever?) to set sail heading Norfolk.
We will mail our I94 formula to the Department of Homeland Security this afternoon when the second Magnus arrives.
John and Mankan are at the moment on their way to pick him up in Smyrna, Delaware.
Oboy I am so thrilled of what to come.
Inserting some pics taken an hour ago.
C y all later. I will update you as soon we get to the Bermudas.
To my little family, Isabelle and Alexandra, I love you both.
(The boats name is after my youngest daughter Isabelle and partially after the hurrican since she had the courtesy to leave our boat unhurted, our next boat will be named Alexandra)

This picture showing me and Nasty when Isabelle was baptisted. In Miller Genuine Draft, not bad hey.
Could THIS be the Swedish Swim Team ;-) ?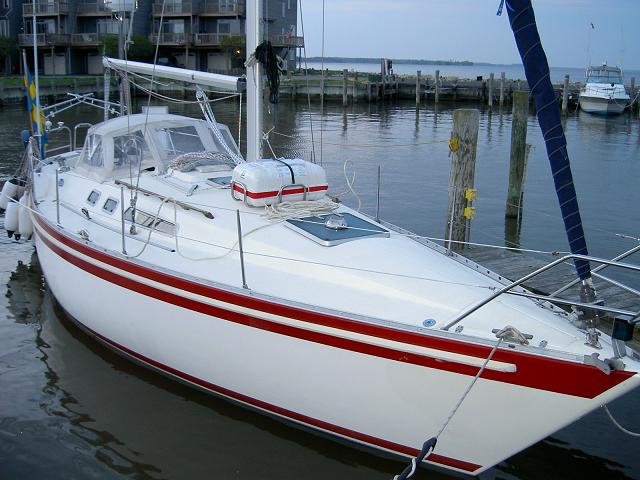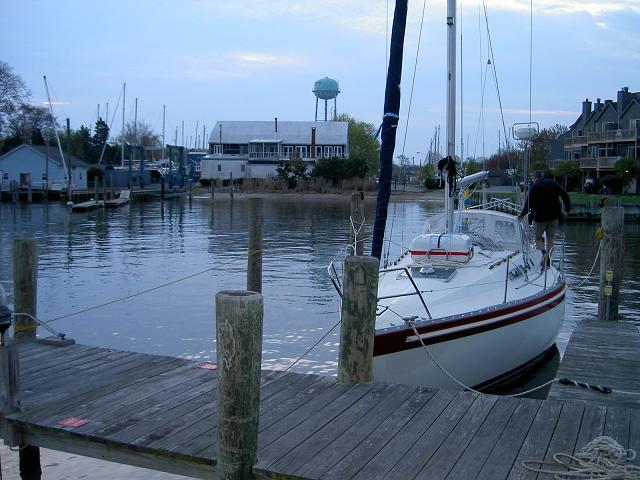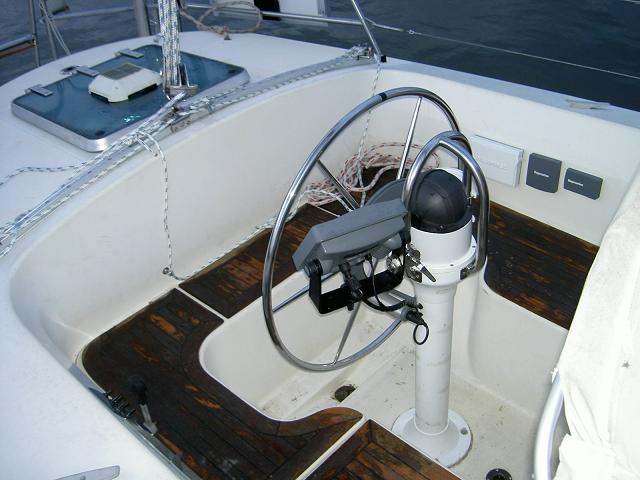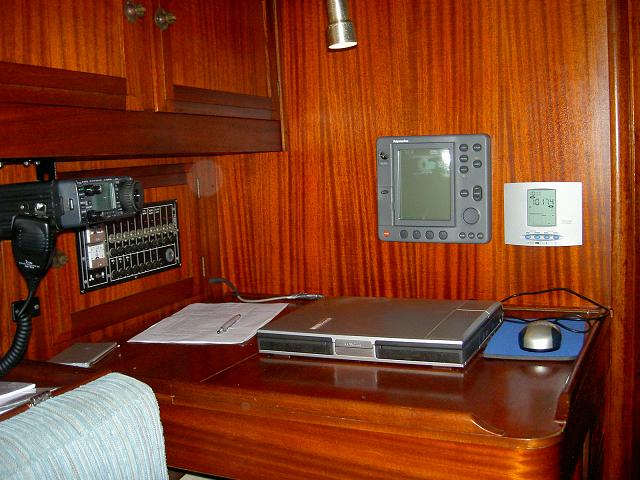 The crew will be made up of four team members.
Except my self (Bosse Johansson) will Magnus Andersson and John Ekström be part of the project "Atlantic Crossing 2004".
Magnus Mossfeltd joined the team just one week before ETD. A very strong guy.
Magnus Andersson.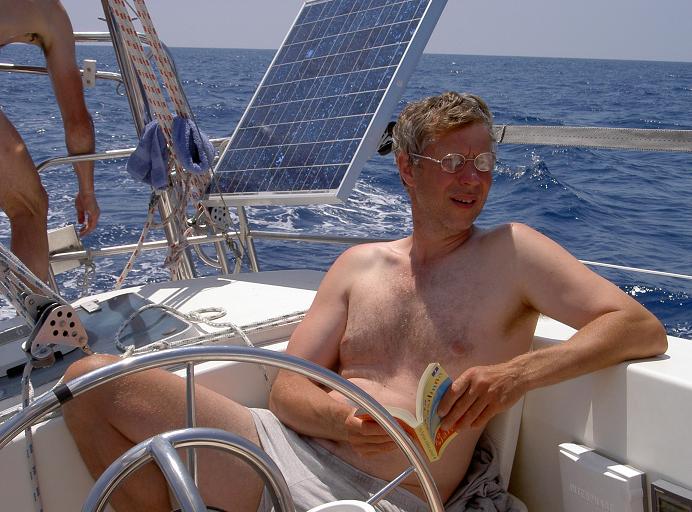 John Ekstrom.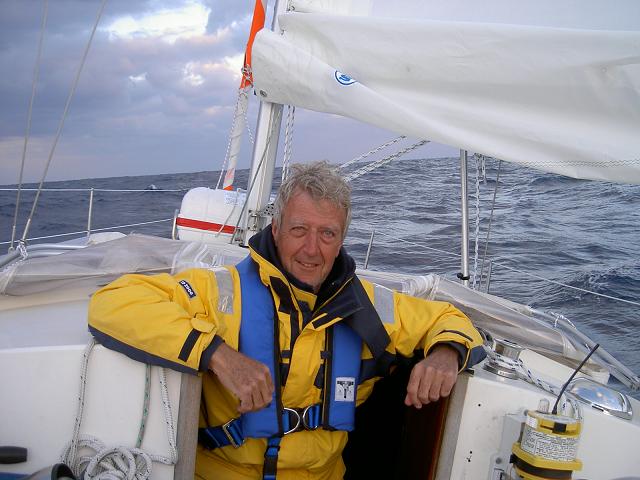 Magnus Mossfeltd.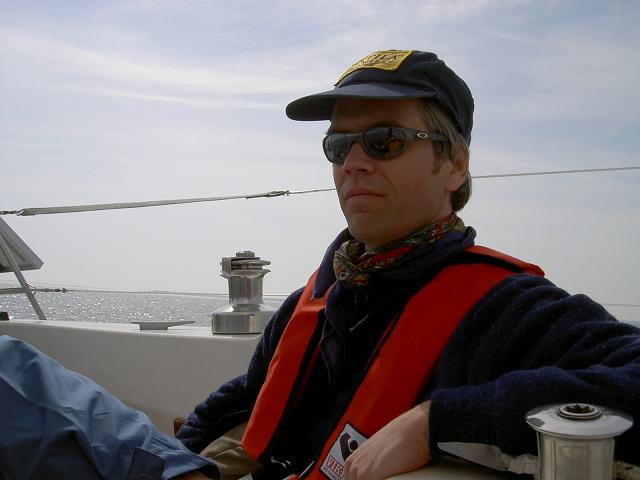 And this is me.


Atlantic Ocean (220 NM to the Bermudas)
So finally I get the time to write something.
The past three days have really been exciting. 12 hours after leaving Norfolk we where facing a Strong Gale (41 - 47 knots, 20 - 25 m/s). It was not so funny but afterwards now when we have faced it and did pretty good it has become an experience I dont wanna have been without. We tryed to sail it out but soon understood that we have to "heave to". We put the steeing helmet to max starport and secured it with a rope to the rail of the side of the boat. No sails where up. Then we all went belov and secured the cockpit hatches with screwes and the powerdrill. Then it was time for a small napp. We where three in the aft berth and Mankan sleeped in the cabin so he could hear the VHF channel 16 if someone tryed to contact us. I had the handheald VHF and did several "Calling all ships" to warn about us drifting with only the masthead light on.
Isabelle did really manage well when she heaved to. I must say. We all discussed this occasion afterwards and we came to the conclusion that she did actually better than all of us, how strange it may sound.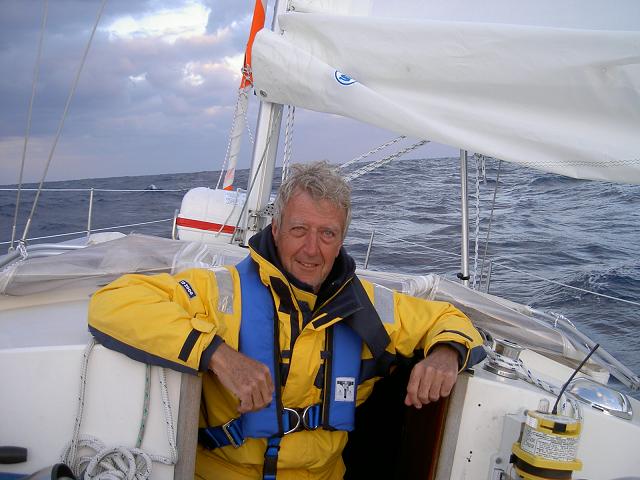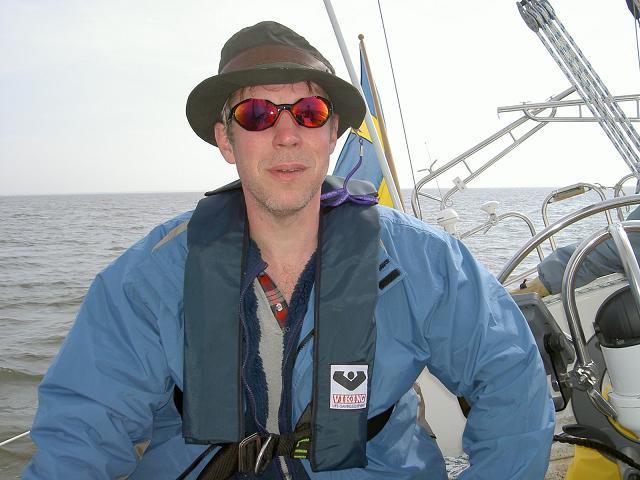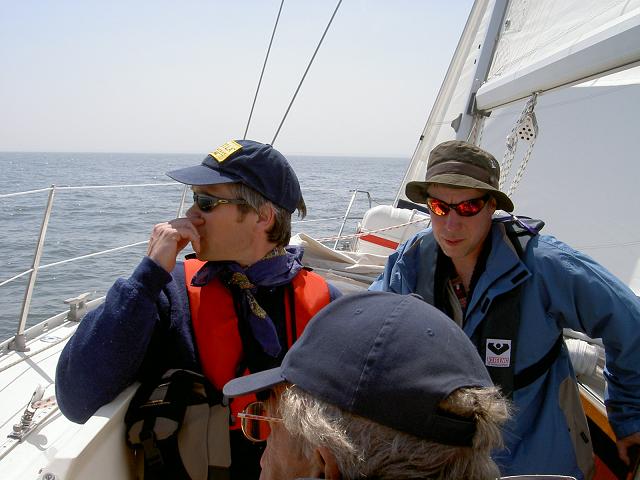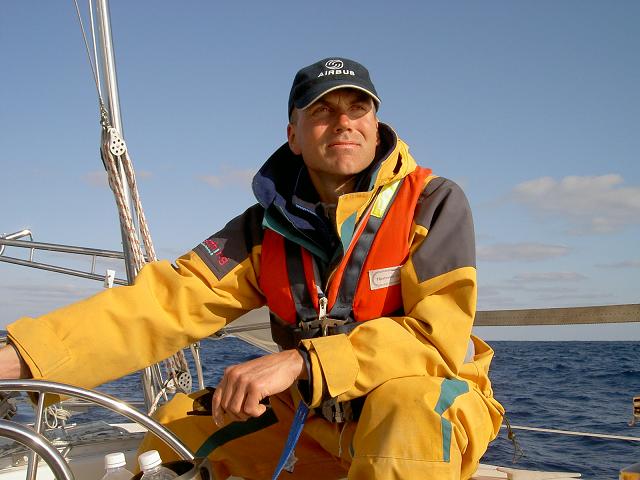 Here are some pictures of all of us, some before and some after the storm. To you whom I know, will later see movies of bits of these occassions.
Bermuda 2004-05-02
Hello all.
So we finally made it to Bermuda. Despite a crazy headwind and a current working against us. But the Green Monster (Volvo Penta) made the job with bravur. The last two days it has worked constantly. We where making 1 - 1.5 knots against Bermuda nomatter were we turned our bow.
Pic 1: Me at a nightwhatch. I would guess I had Pink Floyd The Wall in my sweet ears.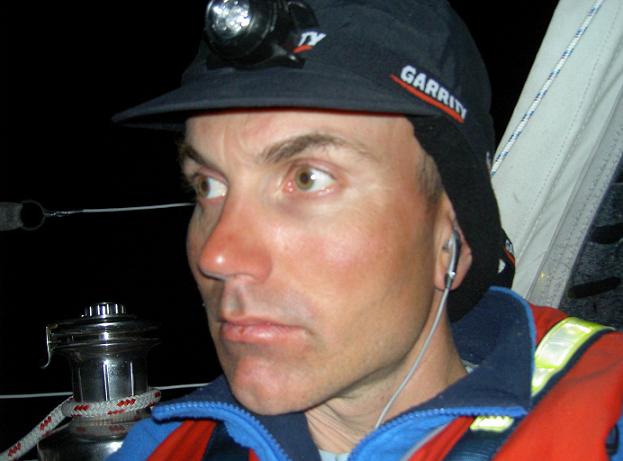 Pic 2: After rain comes sunshine, this is the reward for staying up late ;-)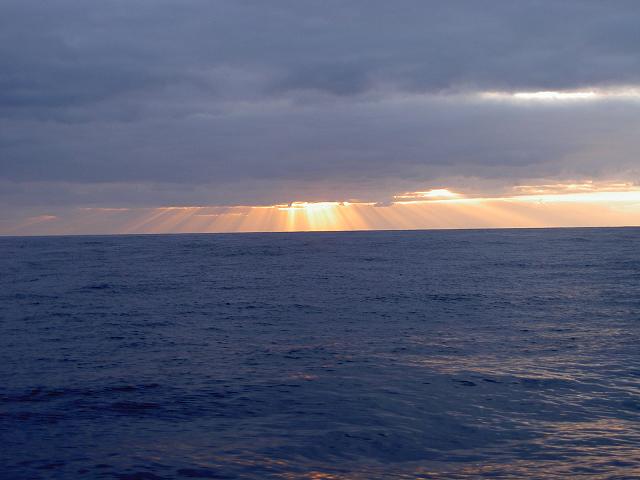 Pic 3: A well needed dinner after Nuts, Power Bars, Gatorades and Avocados for a hole week :-) ( I can really recommend the Pizzas at Bermuda, mmm jummy)


2004-05-04 Bermuda, St:Georges Town, "Cafe Latte" Internet Cafe
Yesturday we had a BBQ at the Marina where we are staying, Captn Smokes Marina.
There where people from all over. Austria, Germany, Poland, United Kingdom and actually another Swedish boat. One funny thing is that out of seven boats in the marina, four are manufactured in little Sweden. Yes you guessed right, the other three are Hallberg-Rassys ;-)
Has taken some more pictures and the latest one just 30 mins ago.
God, isnt she beautiful? She reminds me of my two daugthers.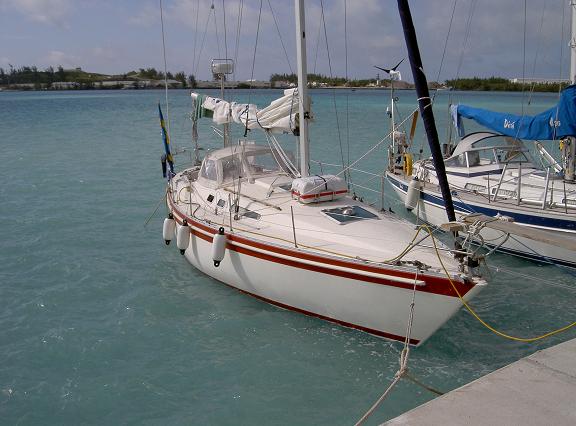 From this morning, I just cant stopping taking pictures of her :-)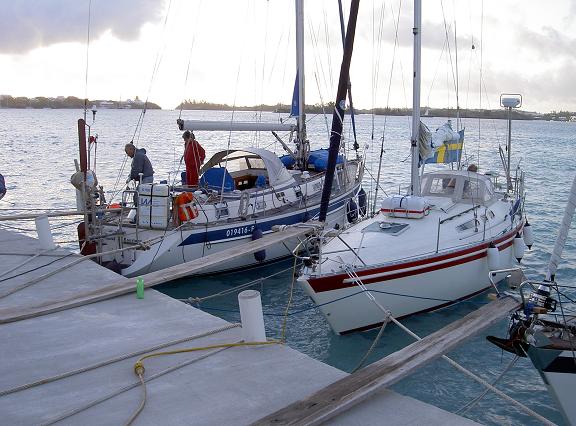 From this morning on my way to this Cafe Latte Internet Cafe.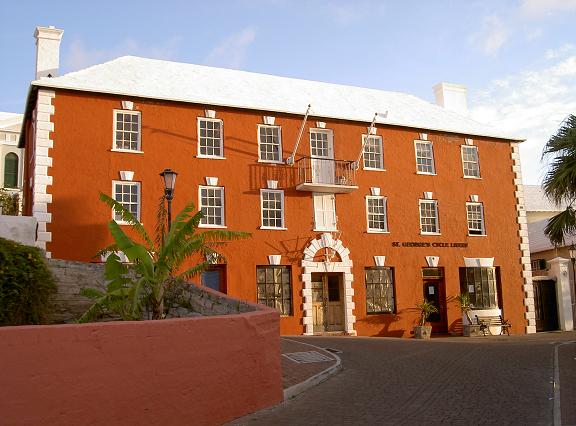 From this morning, me doing the webpage.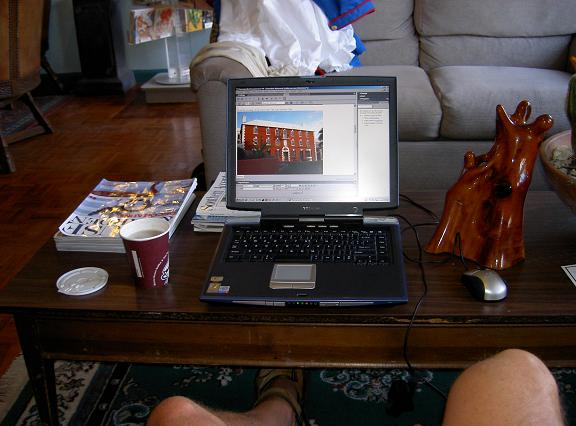 Hamilton, the capitol of Bermuda. I dont know why but almost all houses are colored in pastell with white roofs. Looks pretty neat.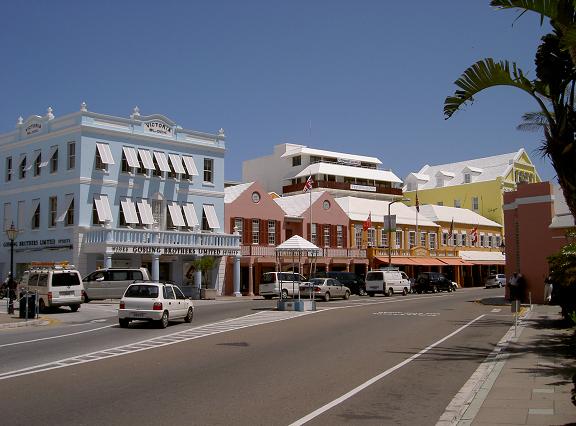 A beatiful church with a very interesting history, but sorry not my cup of tea so you have to look it up your self ;-)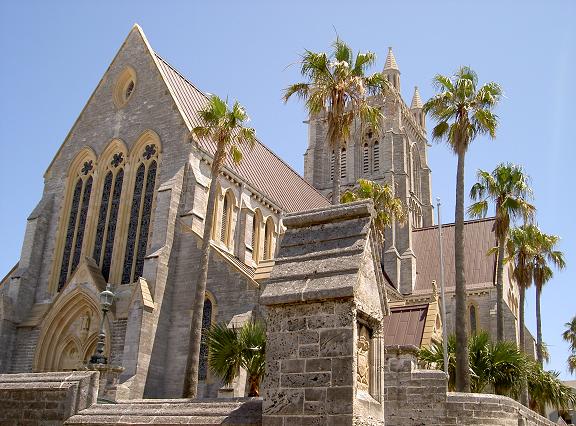 The City Hall, but hey wait dont we reqognize the little fellow there with the orange shirt.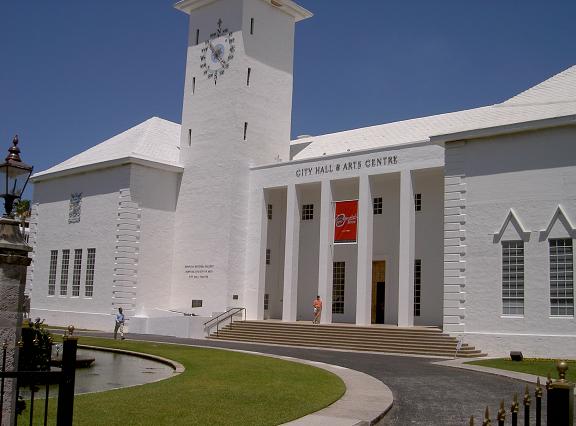 From the BBQ last night.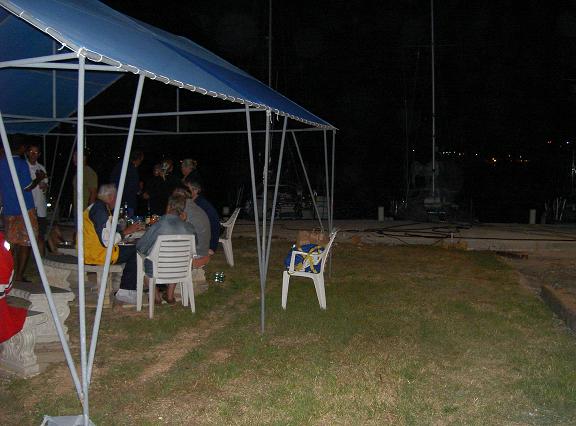 And of course, as all boats out cruising we had a toplanterna that flickered. But I dont complain, it could have been much worse ;-)
We will leave for the Azores tomorrow, wednesday around 9 AM (Onsdag klockan 12 mitt på dagen i Rissne).
Until next time, take care. I know I will :-)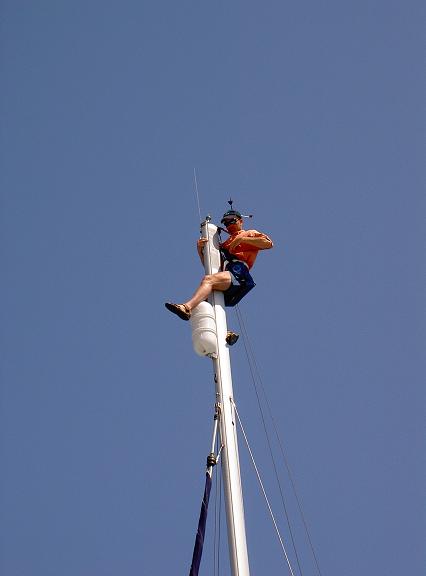 Bermuda, yea you read it, Bermuda 2004-05-12
We left Bermuda for the Azores last wednesday night. Had a great sailing doing 6,5 Knots as an 12 hours average. Then nothing for 6 hours. Then all hell braked loose. We had at least the same Strong Gale as the last passage.
And yes, we are going up the hill in this picture

you may click on it to open up a larger version in a new window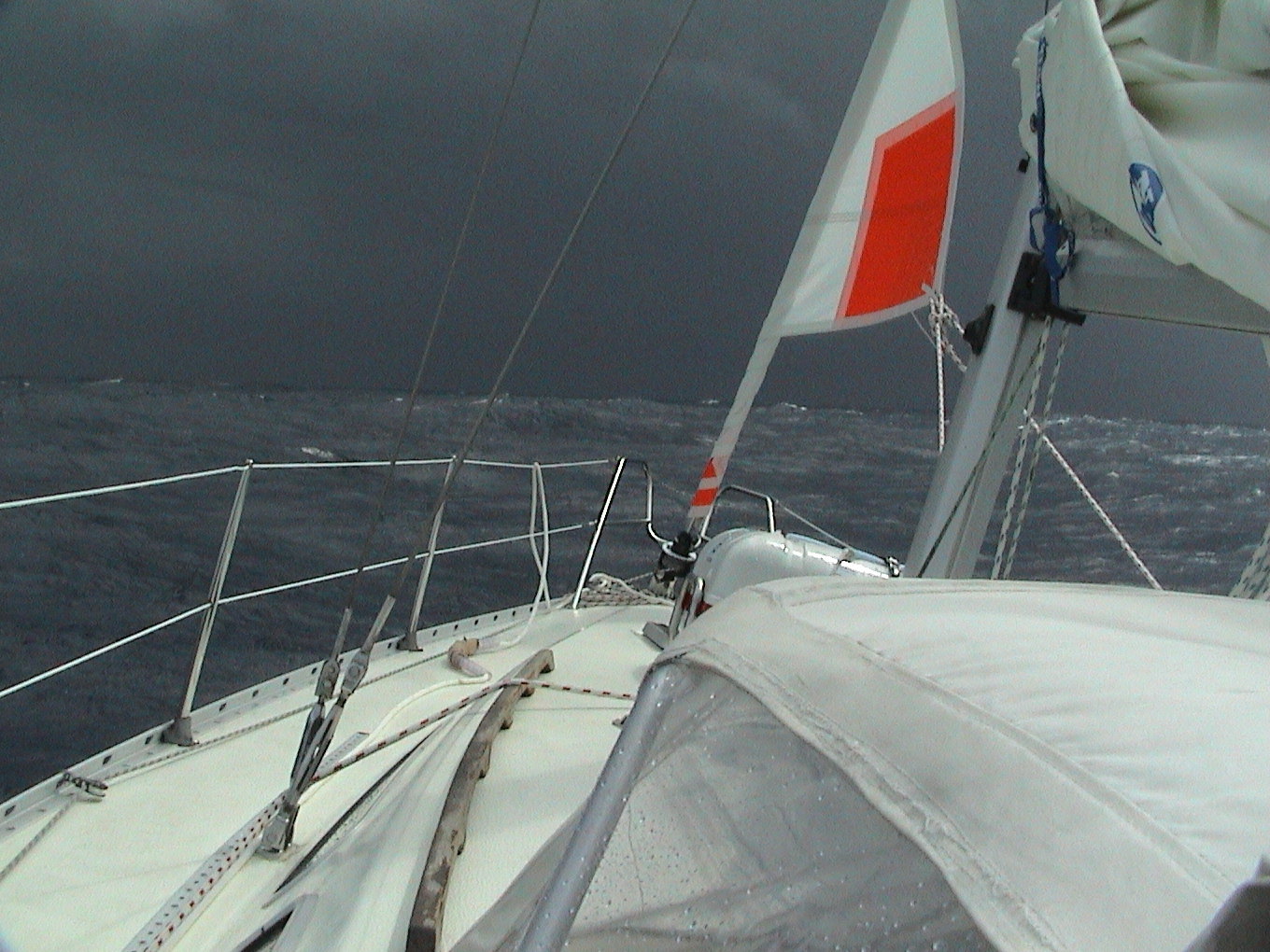 The only differance was that the waves was more like 6-7 seconds wawes, not breaking, well some where. We hove-to using a 15 feet sea-anchor for the next 24 hours. Boy where we tired after being inside this washing mashine. Later next day when we set sail, storm jib and bottom reefed main, the port lower shroud just snapped of after 5 mins of sailing. So 170 NM out from Bermuda we had to just accept that heading back motoring is the only thing we can do.
So now we have been here for three nights and today should two new shrouds arrive from the US eastcoast. As soon they arrive we set sail for New Jersey where our rescuer, Bob Padlowski (you are the best Bob), has prepared for a cradle,drylift in a marina and transportation to Port Newark. I will now put here on a RoRo ship bound for Gothenburg Sweden.
The time has just run away for us. Due to insurance reason we need to be at least three having Nautical Competence and since one of us have to leave I will not have coverage if something else would happen.ut
I am so sorry but there are things one just cant do anything about, except just accepting them and adopting to the situation.
Thx for following me and all the best.
Regards
Bo Johansson
2004-07-24 Stockholm
He he here are some pics showing a bunch of sailors with the famous "three millimeter beard" alias George Michael.
The last night on our way back to New Jersey we experienced a crazy weather system. A strong southerly wind with 8-10 feet waves hitting us on the port side making the work in the cockpit very wet.
A very happy Johan.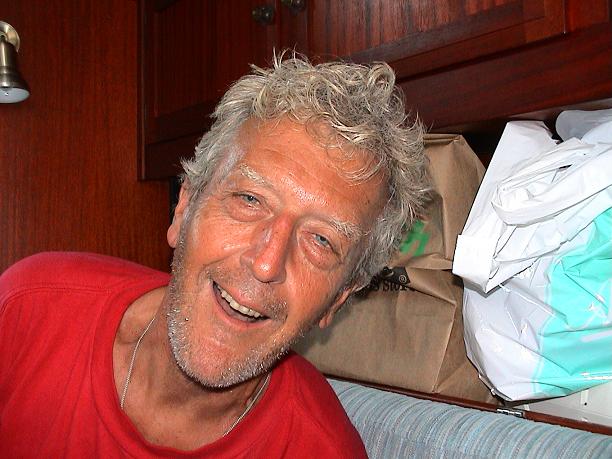 Mankan, thinking of the way home?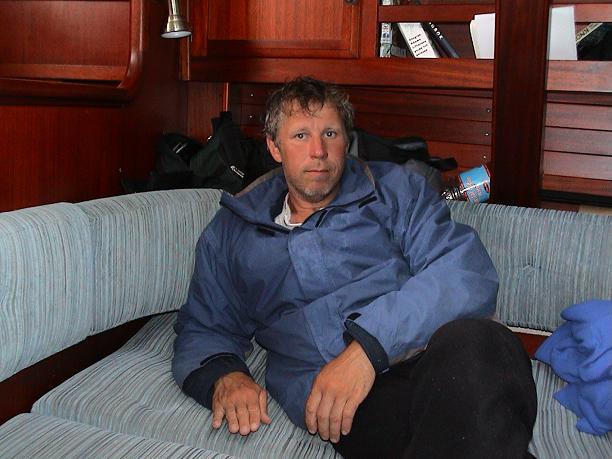 A very fresh Magnus.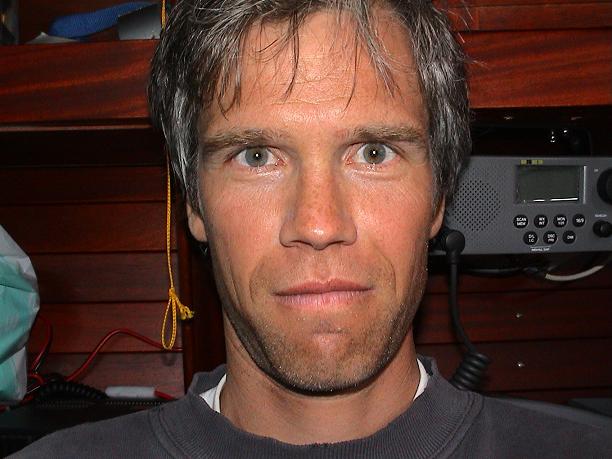 Me just arrived after a nice shower.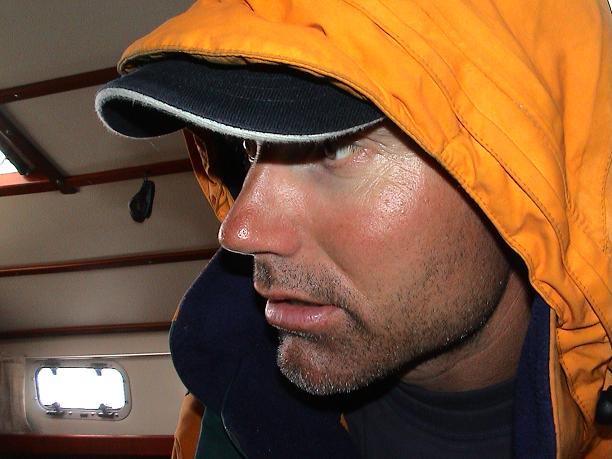 Stockholm 2004-07-20
So what happened, really



We knew that a front would pass from west during thursday afternoon so we decided to wait until thursday before setting sail towards the Acorez.
We, on Isabelle, discussed and we realized that if 3-4 boats will depart and refuel at the same time the departure would most likely take longer time than we all want to.
We decided to depart at midnight wednesday, this would give us not only a higher boatspeed plus some distance infront of the rest, so since we are not so skillfuled navigators, would have an advantage if we where doing poor navigation ;)
About the passing front, the weather informations where talking about 20-30 knot winds, this will set us with stormjib and a bottom reefed main but also a boatspeed of about 5,5-7 knots tailwind, NIIiicceee. Finally some easy sailing.
So we said fairwell to Bermuda Harbour Radio at midnight wednesday the 5 of may. Up until now 6 days behind the schedule.
We had just the nice type of sailing we had expected for the first 36 hours, then we could see the sky turn more ugly than we would expect from the forecasts. At 8 PM we listended to Herb Network and he said that this front would give winds of up to 35-40 knots of wind, maybe higher. Okay now is the time to be prepaired for another rocknroll party, the advantage over last strong gale we had in the Gulfstream was that we could expect "nicer" waves, more in the character of 5-6 seconds waves, not likely to breake as the 3-4 seconds waves did previously.

Turning back was not an option since we then would get all of this right on he nose, noot so nice.
I decided to launch the 15 feet storm anchor, a never used F104 Starfighter Canopy Chute, while we still had what was left of the sunlight. We did also secure the boat (solarpanel, dodger, anchorbox in the bow, securing At 10:30 PM we strapped the steering wheel in the neutral mid position, all of the 300 feet of rope where out and secured to the bow, and we went down below to get some food before everything gets upsidedown down there.
We stumbeld around in darkness and everything got just as messy as expected, clothes everywhere mixed with the salty water it came down with, most of them where left in the "restroom" since all of us didnt have the discipline and this was not the time to argue about these things, becides we were all plus 40 soo old habbits die hard.
Nothing changed when the morning came except now could actually see the waves that hit us and I must say, they where amazing. I would guess that they all where in the excess of 5 meters and up until 7-8 with some (5-10 %) even higher. It was amazing to peek up in the companion way looking aft when at the same time we was at the top of some of these higher waves. It was like having a hole walley in front of you. These waves were maybe a couple of 300-400 feet wide and the surface on them were so smooth, and the sound.....the SOUND, amazing I can only say that.
Now we waited and waited, me, John and Magnus where laying down trying to fight the seasickness that instantly appeared once standing up, Mankan on the other hand, the only of us having never sailed before, where like a fish in the water, reading books, moving around and making food to the rest of us. None of us did ever throw up or anything but we where all to often feeling uncomfortable and prefered to stay in the cockpit while sailing.
In the afternoon saturday the 7th of May we had dryed out the boat and were feeling ready to set sail. I decided to start out with smallest possible, stormjib and bottom reefed main. When everything where cleared I said to John, both of us sitting at the table in the saloon, that now I will sleep for a couple of hours. Having said just that a loud bang was heard and it feelt like Isabelle had been hit by another large wave. I instantly had a feeling of "that was an all to sharp bang for being a wave". I flew up into the cockpit and looked forward. Tha mast was bending midway hard to starbord. Followed the lower port shroud which had a funny curve all the way down to the deck. Then I realized that it had failed due to some sort of fatique.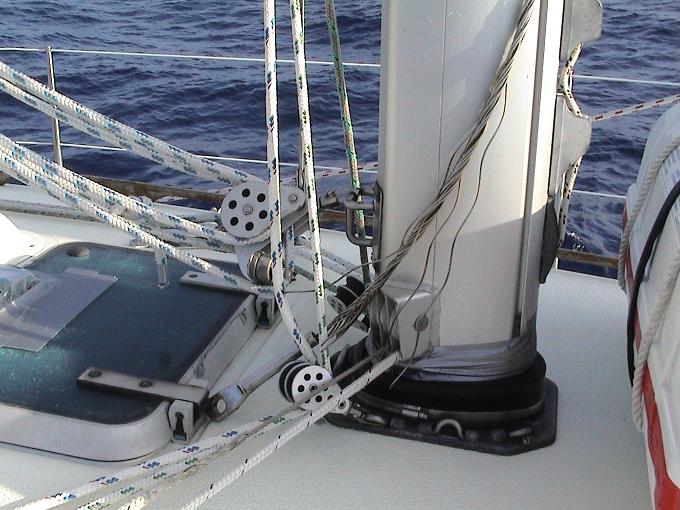 It had snapped off just adjacent to the swaged rod end (a school book example). As I could see out of the oxidation on three of the wires (in total 19 of) was most likely off already when leaving Rock Hall. There was 13 wires that broke at the same time, three was left intact.
We reefed the main and jib as fast as we could thus limiting the load on the mast.
We had a discussion of what to do. We had nothing to repair with that would even to be compared with a new wire. We where 3 that would like to go back to Bermuda for repair and one of us said we could move the lower shroud between the tacks.
So concidering the circumstances, only thing that would have keept me going would have been a new identical wire. And even soo, if one of a set of two wires fail due to fatique, we could excpect the other lower shroud to fail pretty soon.
And we where only 2 days out and had at least 16-18 days more to go.
Looking in the mirror I was glad we did, I got an email from another boat, the 72 footer Bel-Ami, and they said that they have had all NE winds and yet one more strong gale on their way to the Acorez. "Lucky them"..........not :-/
Stockholm 2004-06-02
So once back in Bermuda and two new shrouds installed, took only four days to fly in from the east coastone, of my team mates hadnt got the time to follow to the Acorez. This put me in the decision to go without an insurance, which I didnt want to do or stall the hole project. Sooo, then I tryed to have her shipped from Bermuda to Sweden. First thing was to look up a cradle which showed to be totally impossible since the have to ship them back once importing a boat into Bermuda. But a "friendly" guy at one of the marinas in Hamilton said that he could have one manufactured..........for 5000 to 8000 US........ Excuse me say again. If you have a problem being in Bermuda it seems that they invent the wheel all over again, and just for you.... What a crap.. So leaving the boat at Bermuda to later be shipped was not an option. Soo, lets head back to the states then. Said and done we set sails for New Jersey and Morgan Marina at the western part of Raritan Bay. They had a friendly attitude and could put me on the dry within a couple of days, they also had storage if I decided to leave her there over the winter. I decided to put her up for sale. Contacted a brooker and he came and looked at her and I dont know but the only thing he saw was a patch on the floor, that covered a teared laminate. And that was problem, yea and there was no matt on hte floor in the aft bert. That she was nice and clean, in a high technical standard and new sails and new prop, new just about everything...... Naaaaa I have been raped before and this guy did whith a glance.... No way I am gonna sell her. So I contacted the next door marina for a JOWI cradle, yea by the way I am really pissed of JOWI in North Carolina I called them from Bermuda to buy a cradle and later that day I cancelled it, because I have decided to put her up for sale in NJ, and said I would be glad to pay him for what ever expence they might have had. He said that I would have to pay 15 % of total cost approx 375 US, thx for nothing shit head (excuse me but that really pissed me off). To be continued Have to go for a good night sleep....
Stockholm 2004-08-10
What can I say, ME SOO HAPPY

These pictures where taken within the last 24 hours. We brought her from Gothenburg to Stockholm. What a ride that was.
Max hight for the road is in Sweden 4,50 meter (14,8 feet) and she was 4,55 before we loaded her on to the truck and we said a prair that the trailer lowered 5 cm once she was "on top". It worked out nice even thou some bridges where very scary.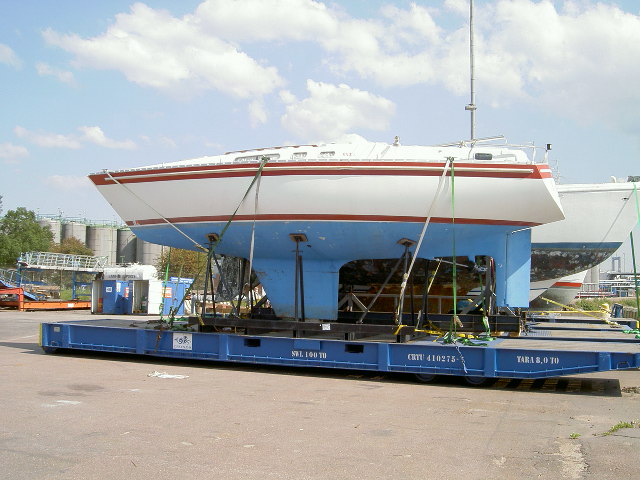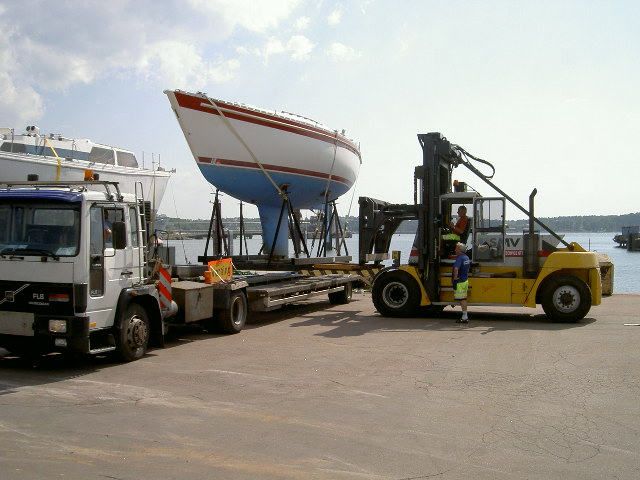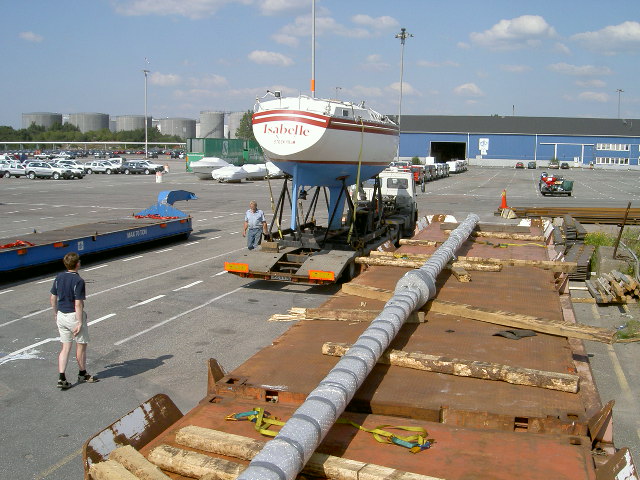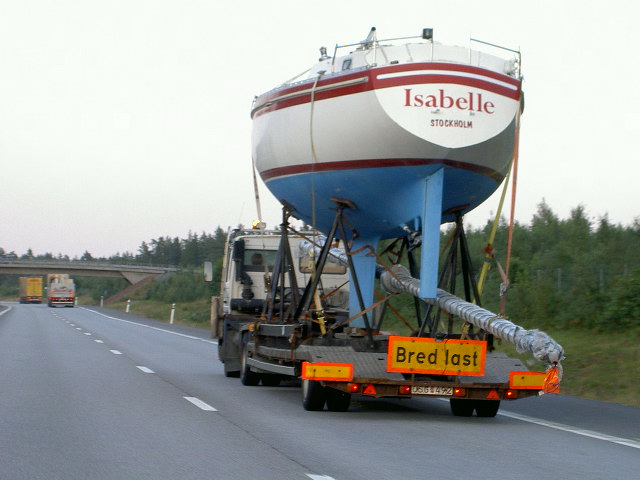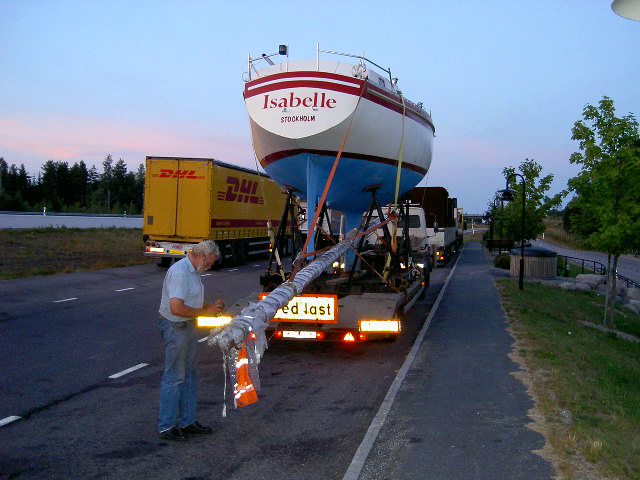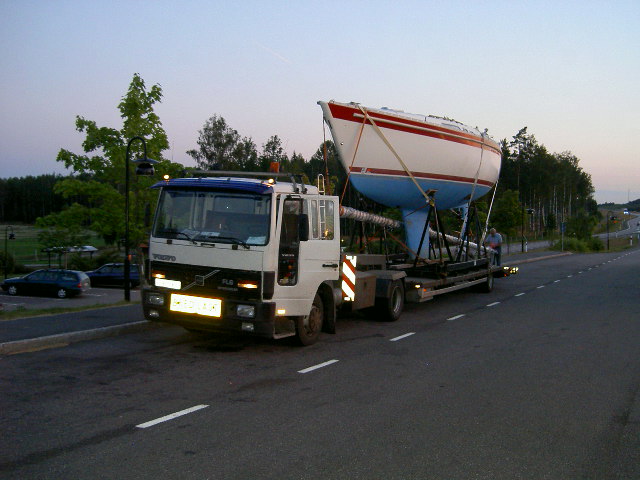 Well, thats all folk now when she is home I can start to fix her, fix her to fit the scandinavian sailing seasons.
Check out the other sub sites..
Bye bye..